https://www.youtube.com/watch?v=iCHNhg5Ydbk
This is an excerpt from Chapter 9 of my new, Amazon No.1 Best Selling Marketing book for Physical Therapists, "New Patient Accelerator Method: How I Scaled A Four Location, $1,000,000 + Cash Pay Clinic – In A Place Where Health Care Is Free (…And, In One Of The Poorest Parts Of The Country)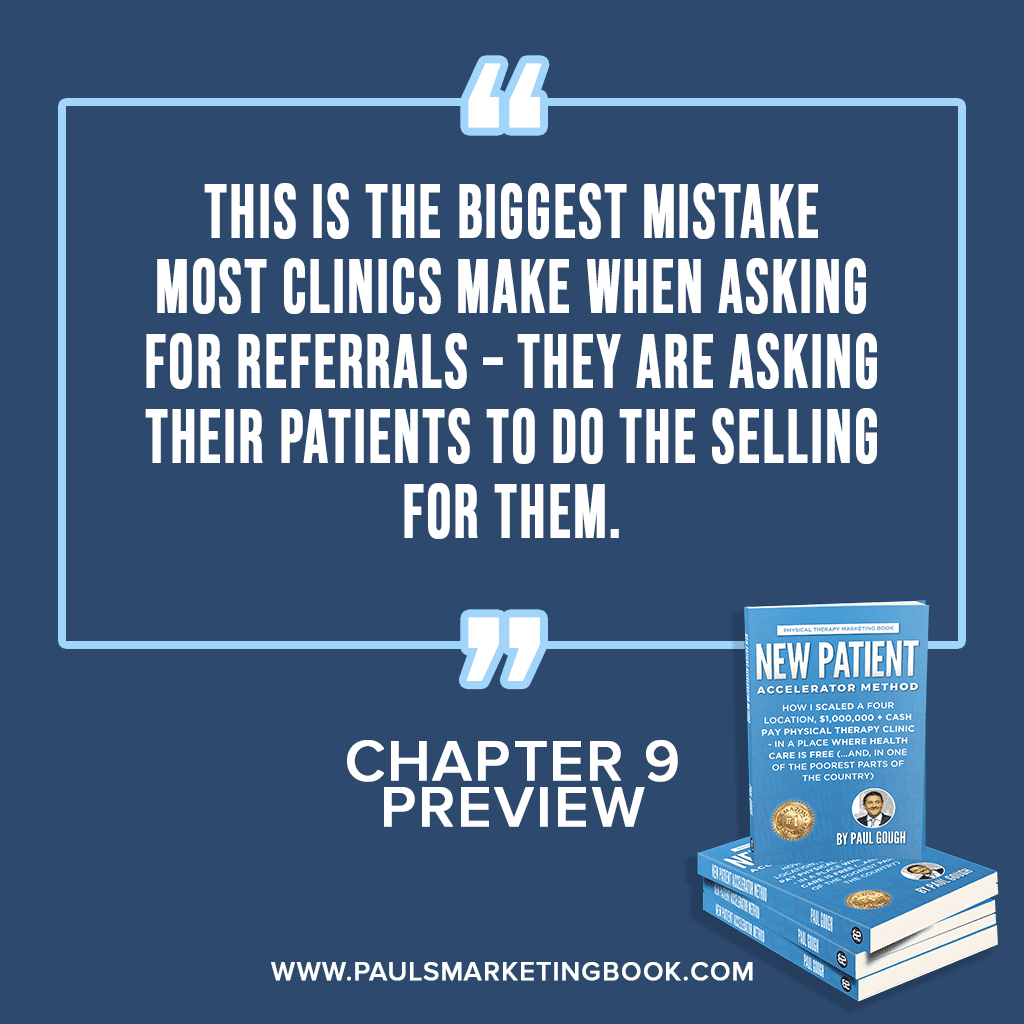 "Giving your patients information to give to their friends' works because it stops your patients from having to become "salespeople" for you. This is the biggest mistake most clinics make when asking for referrals – they are asking their patients to do the selling for them. Chances are patients are telling their friends about you, but they often say the wrong things (they talk about what happens and not the outcome you deliver).
Have you ever stopped to consider what people say about what we do? Picture the coffee shop conversation where a past patient is telling someone about you. The inevitable question is "what's it like", or "what do they do?", and if your patient starts to say things like "well, you have to take your clothes off", "he put his elbow in my back right at the point where it hurt", or "he stretched my leg into a position it has never been in before", they're hardly likely to call, are they? Compound that by how much it costs and they're very unlikely to call no matter how good your past patient's intentions are.
They are saying the wrong things, which is why so many patients who tell you that they will "tell everyone about you" fail to get them to come and see you. They are simply saying the wrong things. That's what this system is designed to stop, therefore significantly increasing the likelihood that the potential patient has an accurate understanding of what you really do. If they have a better understanding of what you do they will make better and more confident decisions to hire you.
So, the solution to more referrals from past patients is to give them information that they can pass along for you. The best part is, you already have it (from what you are using in your attraction ads). Now you just need to create a system whereby a patient's friend, colleague, or family member can get it from you.
Think about what this would mean for your clinic: having someone who booked an appointment at your clinic today refer someone else to you within a few days from now. It is as close to "two for one" as you can get, and it really is an explosive way of growing your business, on autopilot, with as much leverage as possible, making it significantly easier for you to grow profitably."
…Continues on page 170.
Paul Gough's Marketing book for Physical Therapists –
"New Patient Accelerator Method" is OUT NOW!
To get your copy go here now: www.paulsmarketingbook.com
NOTE: If you order it directly from the OFFICIAL WEBSITE (NOT AMAZON), you'll pay the same price, BUT, I'll be giving you some incredible bonuses for doing so… When you go to www.paulsmarketingbook.com – choose purchase OPTION 2 to get the very best free BONUSES that will come with your book including my Wealth Marketing DVD program, Free Facebook Ads PDF, and two months worth of the Cash is King Publication and Coaching CD…
Go here now to get your copy: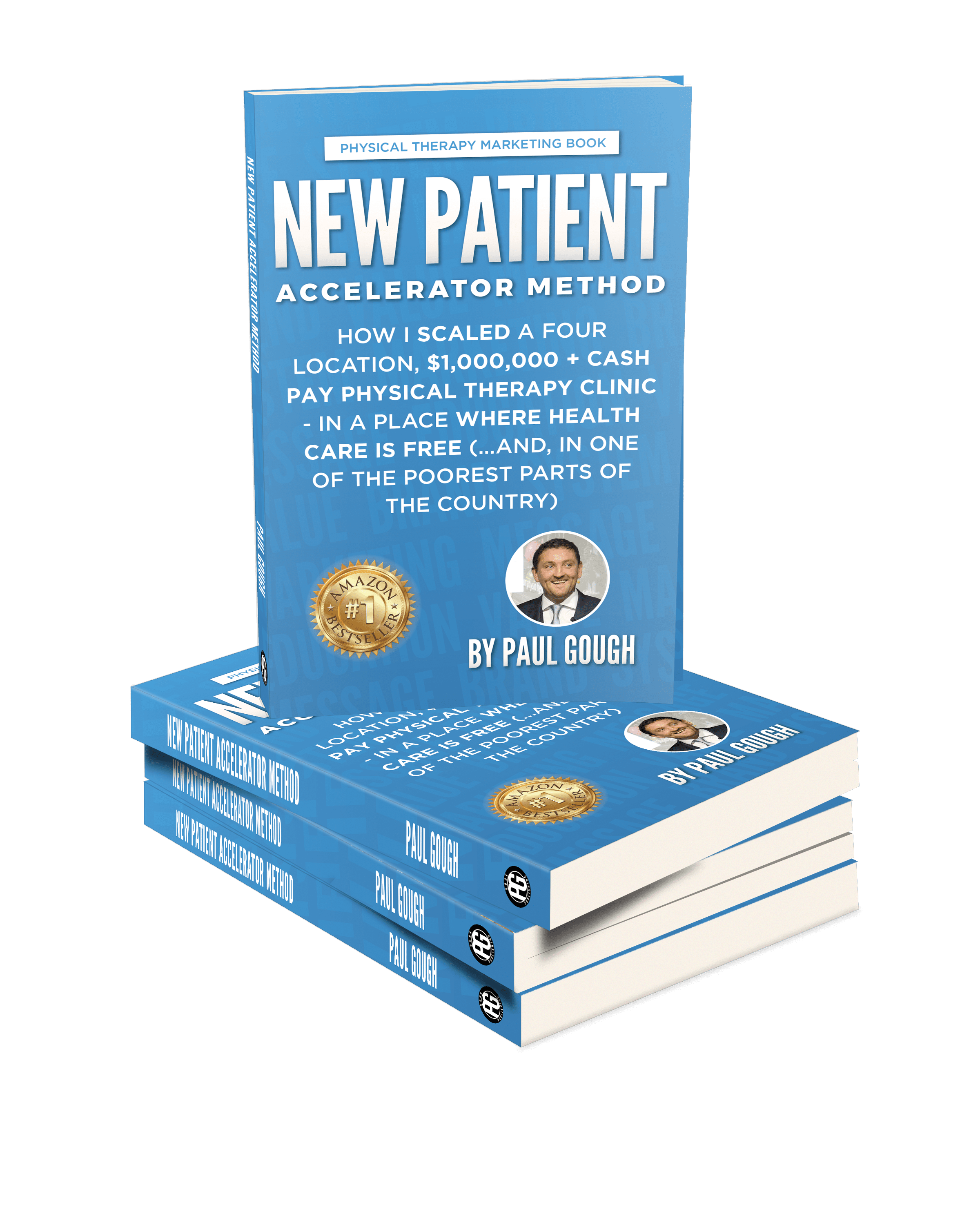 Connect with me on Social Media – and use the hashtag #paulsmarketingbook when you get the book and share your selfie so I can reach out personally to say thank you!
– Facebook
– Instagram
– Twitter
– The Physical Therapy Business School Podcast
– LinkedIn
– YouTube