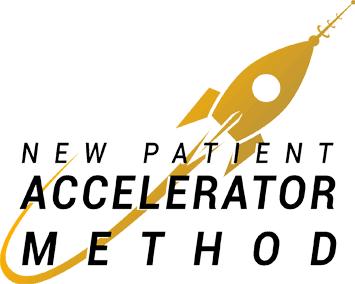 THE STORY:
Mike is a cash pay, solo Physical Therapist working out of a fitness facility in New Jersey. He helps cross-fit and other athletes to quickly return to full fitness and takes great pride in his work to help this community of people. Mike's big problem was limited financial resources, he had zero marketing experience or budget - and no-one to turn to for guidance on how to scale a private pay cash business.
THE EXPERIENCE:
After going through the Accelerator Method Masterclass and working with our team, attending coaching calls with Paul Gough and doing the implementation and accountability exercises we gave him, Mike was able to make some simple changes to his website that meant he was quickly able to start attracting more "weekend athletes" looking for help online, he changed his social media strategy and he started to run Facebook ads into the newsfeed of his perfect patient.
THE RESULTS:
With more leads, more inquiries happening 24-7, he's already experiencing 33% higher profits. Mike has been able to raise his prices significantly and now has a bigger budget for marketing meaning he can pay for even more marketing activity while he continues to optimize his marketing campaigns and funnels.
Mike's Full Accelerator Story:
THE PROBLEM

– "I don't have enough leads and after I've paid my rent and bills, I don't have any budget left over for Marketing"

Mike started his business in 2014, and his goal was to hit "30" visits per week at $135 per visit.

His plan was to start his business and grow his company – Next Level PT - so that he could one day have a number of staff to run that business for him. What Mike wanted from us was "more clarity about what marketing to do that would bring in more of the right leads that would let him grow his company to the next level".

"…more clarity about what Marketing to do that would bring in more of the right patients"

At first, Mike was overwhelmed at putting together all of the different pieces involved in building a successful marketing campaign that would attract Direct Access, cash-pay patients… as he says:

"You just don't know where to start"

Add to the fact that, as Mike says, "there's a lot of competition from other PT's who want to market to cross-fit athletes" – he was looking for a Method that was easy to implement, made sense of all of the 'marketing madness' out there, AND, most important of all, would help him to stand out from the CROWD.
THE ACTION

– "I need to stand out from the crowd to make this work!"

Dr.Mike Wehrhahn has been someone who has dabbled in other Marketing before – had tried other courses and programs - and none of it worked that well for him.

What Mike loved about the Accelerator Method is that when you strip down the Marketing process to its basic fundamentals (as explained in the Accelerator Method), it's a simple 3-step process:
Step 1: Pick Your Perfect Patient
Step 2: Get Their Attention
Step 3: Offer A Valuable Solution
With this new Method explained to him, Mike knew he couldn't fail. BUT, about to get married, Mike was really feeling the pressure to have something pay off for all of the time and effort he's put into his business so far...
THE TURNING POINT

– "This is DIFFERENT!"

Enter "Accelerator"!

Mike heard about Paul Gough's Accelerator Method through Dr.Jarod Carter's "Cash PT Podcast", and Aaron LeBauer – two very successful cash-pay PT's already using the Accelerator Method.

One day, Paul Gough posted about the Accelerator Method Masterclass series opening up and although Mike wanted to join, he was at first reluctant as the funds weren't there yet to confidently make it happen – and he had a wedding to pay for.

But he did it anyway… and when he did, Mike was blown away by the eye-opening difference in his ability to acquire new patients – and how to raise his rates using the Premium Price strategy that is included in the Accelerator Method.

"…he had a wedding to pay for in just 3 months time – but he did it anyway!"

Mike sums up his initial Masterclass Anxiety by saying:

"There's so much anxiety about just getting started as well as 'what happens if this doesn't work for me?"...

"When you have people who give you feedback and steer you in the right direction – people who have been there and done it and continue to do it and you can see others doing it, that's invaluable"…

He created 3 compelling E-books, built out 3 follow up funnels for different sports injuries, started Facebook advertising and developed a new Social Media strategy show-casing his knowledge in this field with the emphasis on adding value to the athletic community in NJ.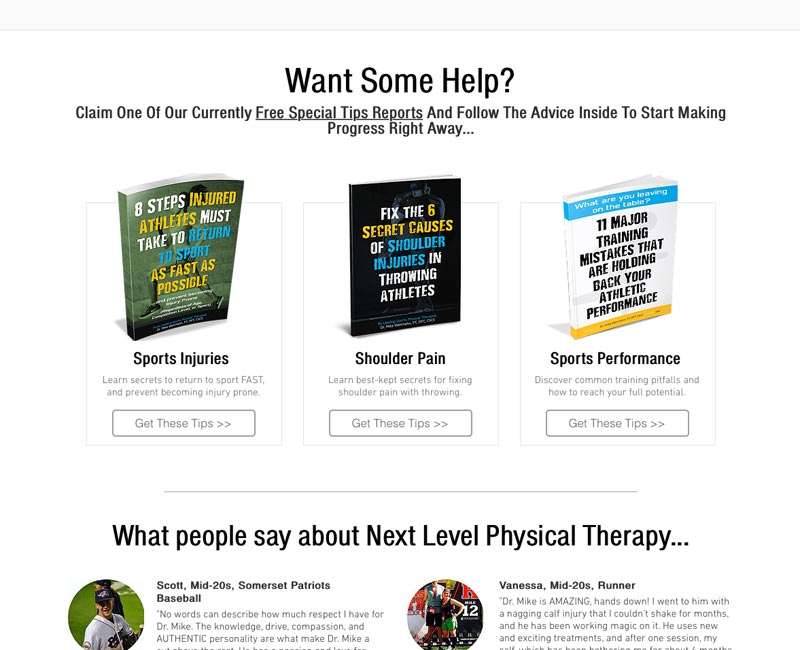 Using the Accelerator Method, Mike gained a crystal clear understanding of how to get more perfect patients entering his treatment room - and this allowed him to create custom tailored treatment programs to better serve the athletes he served. He was then able to offer those programs in the form of packages at much higher prices than he was selling "one-off" sessions.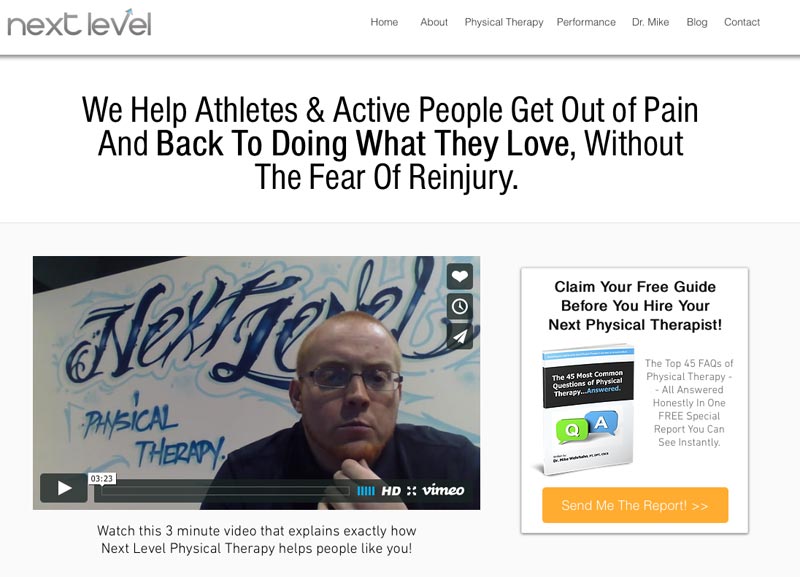 Mike joined the 6-Week Masterclass series feeling excited that Paul was "going to walk us through the entire process".
He appreciated that training modules were dripped out slowly, because it forced him to "go back and watch the videos over and over and over again to get those little things you missed first time – the little things that always seem to make the difference".
As Mike says, "you need the accountability to ensure you get this stuff done - and if you get this stuff done you become more successful".
Immediately after signing up for the Accelerator Method Masterclass, Mike was invited to join the Next Level Group Coaching program where he met other successful PT Entrepreneurs implementing the Accelerator Method.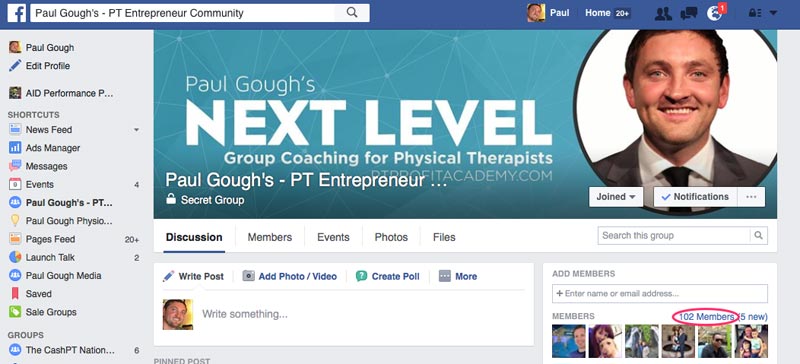 Mike enjoyed the level of feedback – and accountability – he got from other members of the Masterclass as well as Paul Gough and his team of specialists. He immediately noticed that there was a difference in the caliber of business owner in this group versus others that he was a part of...
As he puts it: "having people who I could bounce questions off was so valuable".
And most importantly, "I know I'm getting feedback from people who have been through it or are going through it with me".
Once he joined the Masterclass he has never looked back...
THE RESULTS:

His best month ever and "$5000" added to his monthly revenue

Once his new marketing system was in place, Mike started acquiring leads using his Facebook ads, getting more athletes to his new website via his Social Media – and changing the way he gives his educational talks.

And the early results are impressive: just 3 months after Accelerator he is banking $5000 more per month more than he was before Accelerator and is already looking to expand the Next Level PT chain to a second facility in NJ.

"...already banking $5000 more per month since using the Accelerator Method"
FUTURE GROWTH

– "Two clinics and full time staff PT's"

Right now, Mike is busy building on his early wins, creating more marketing campaigns, increasing his number of leads and looking for a second facility and more staff to take Next Level PT, to the "Next Level".

And with the potential to reach 100,000's of extra new patients now that his marketing is online and knowing how to leverage things like Google PPC and Facebook, Mike really is reaching for that NEXT LEVEL of profitability and success!

All that we can say is "great job Mike, you deserve all the success that is arriving your way each and every day and the extra revenue that you and your new wife are enjoying!"