https://www.youtube.com/watch?v=iCHNhg5Ydbk
This is an excerpt from Chapter 7 of my new, Amazon No.1 Best Selling Marketing book for Physical Therapists, "New Patient Accelerator Method: How I Scaled A Four Location, $1,000,000 + Cash Pay Clinic – In A Place Where Health Care Is Free (…And, In One Of The Poorest Parts Of The Country)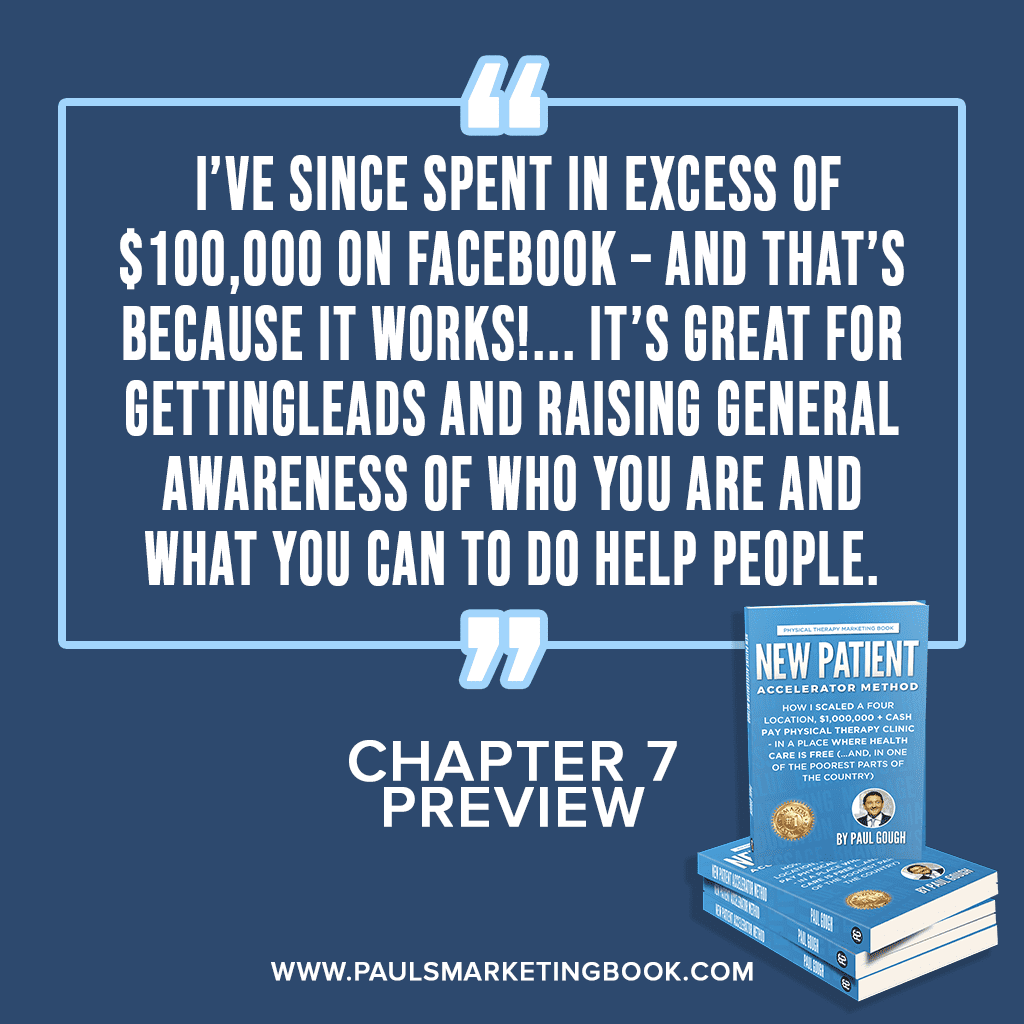 …"Let's move from "offline" to "online". Facebook advertising is something that I've been doing at my practice since the day it became an option, back in 2013.
I've since spent in excess of $100,000 on Facebook – and that's because it works! It is a platform that is difficult to hide from and I don't know many if any, niches or perfect patients that you wouldn't be able to find from advertising on Facebook. It's great for getting leads and raising general awareness of who you are and what you can to do help people.
I primarily use Facebook ads to get leads and build my celebrity status and authority. It is not about selling things or asking people to commit to appointments. It is not about asking for likes or even worrying over things getting shared. It is all about positioning yourself and getting leads that will go through your Nurture System (discussed in chapter 10).
To be clear, what we are talking about here is Facebook's paid for ad platform. It is NOT about posting status updates and images. It is about paying for your ads to be seen by the people in your target market. And that is what makes Facebook so special and unique. Facebook's ad platform allows for great targeting so it is very easy to find your perfect patient – you could easily find guys in their 30's who like to do CrossFit, or ladies in their 50's who want to be active and enjoy yoga.
If you are in the postnatal back pain or pelvic floor niche, you could very easily find ladies who have just given birth or are about to. You could even talk to middle-aged children who are worried about their elderly parents falling. For all those reasons, Facebook cannot be ignored. I have mainly targeted ladies in their 50's and above. This allows me to write the message in the ad specifically for that person who are living with a certain type of problem (…an example of one of my best Facebook ads is in your resource kit www.paulgough/resource).
…Continued on page 128.
Paul Gough's Marketing book for Physical Therapists –
"New Patient Accelerator Method" is OUT NOW!
To get your copy go here now: www.paulsmarketingbook.com
NOTE: If you order it directly from the OFFICIAL WEBSITE (NOT AMAZON), you'll pay the same price, BUT, I'll be giving you some incredible bonuses for doing so… When you go to www.paulsmarketingbook.com – choose purchase OPTION 2 to get the very best free BONUSES that will come with your book including my Wealth Marketing DVD program, Free Facebook Ads PDF, and two months worth of the Cash is King Publication and Coaching CD…
Go here now to get your copy: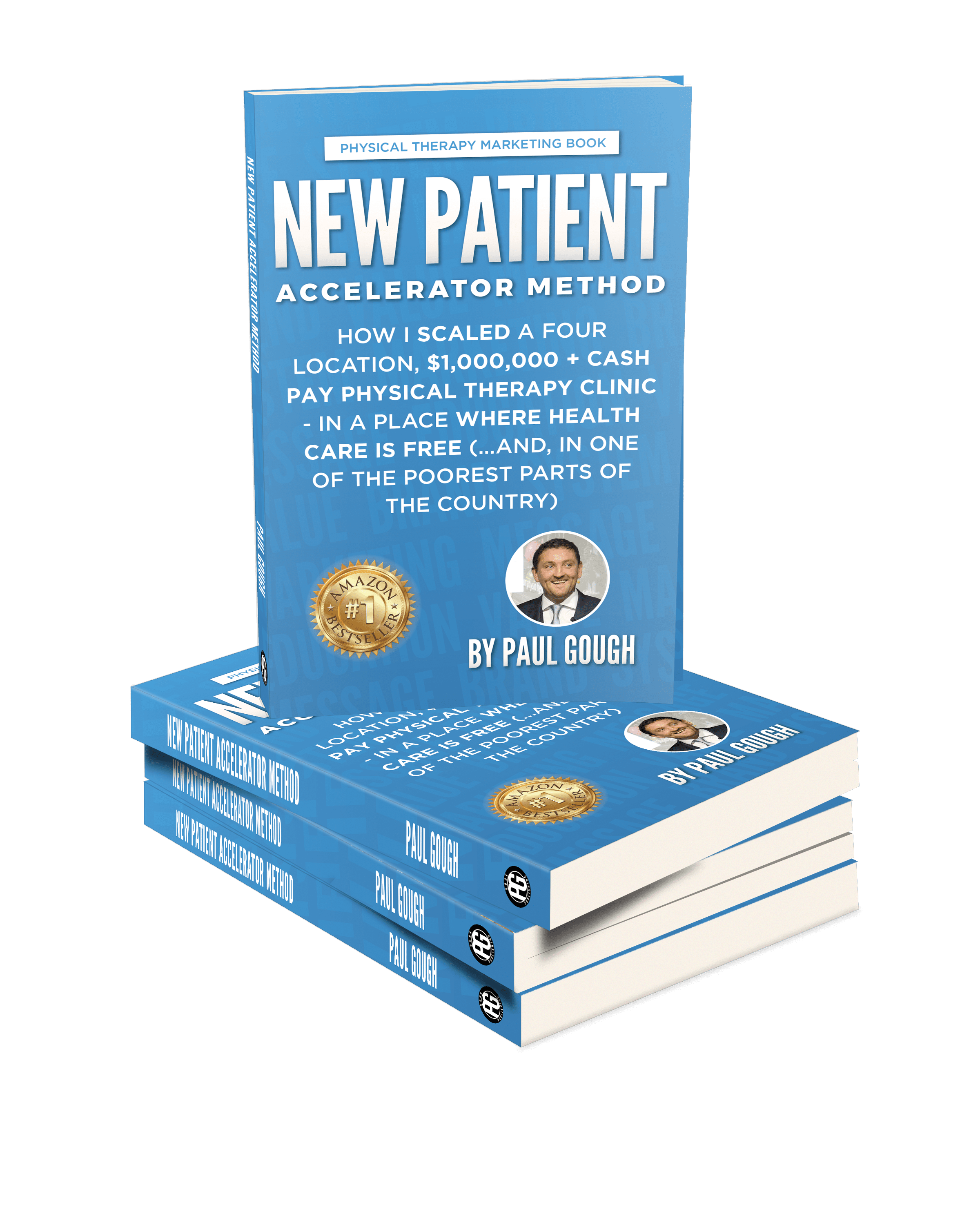 Connect with me on Social Media – and use the hashtag #paulsmarketingbook when you get the book and share your selfie so I can reach out personally to say thank you!
– Facebook
– Instagram
– Twitter
– The Physical Therapy Business School Podcast
– LinkedIn
– YouTube