https://www.youtube.com/watch?v=iCHNhg5Ydbk
This is an excerpt from Chapter 1 of my new, Amazon No.1 Best Selling Marketing book for Physical Therapists, "New Patient Accelerator Method: How I Scaled A Four Location, $1,000,000 + Cash Pay Clinic – In A Place Where Health Care Is Free (…And, In One Of The Poorest Parts Of The Country)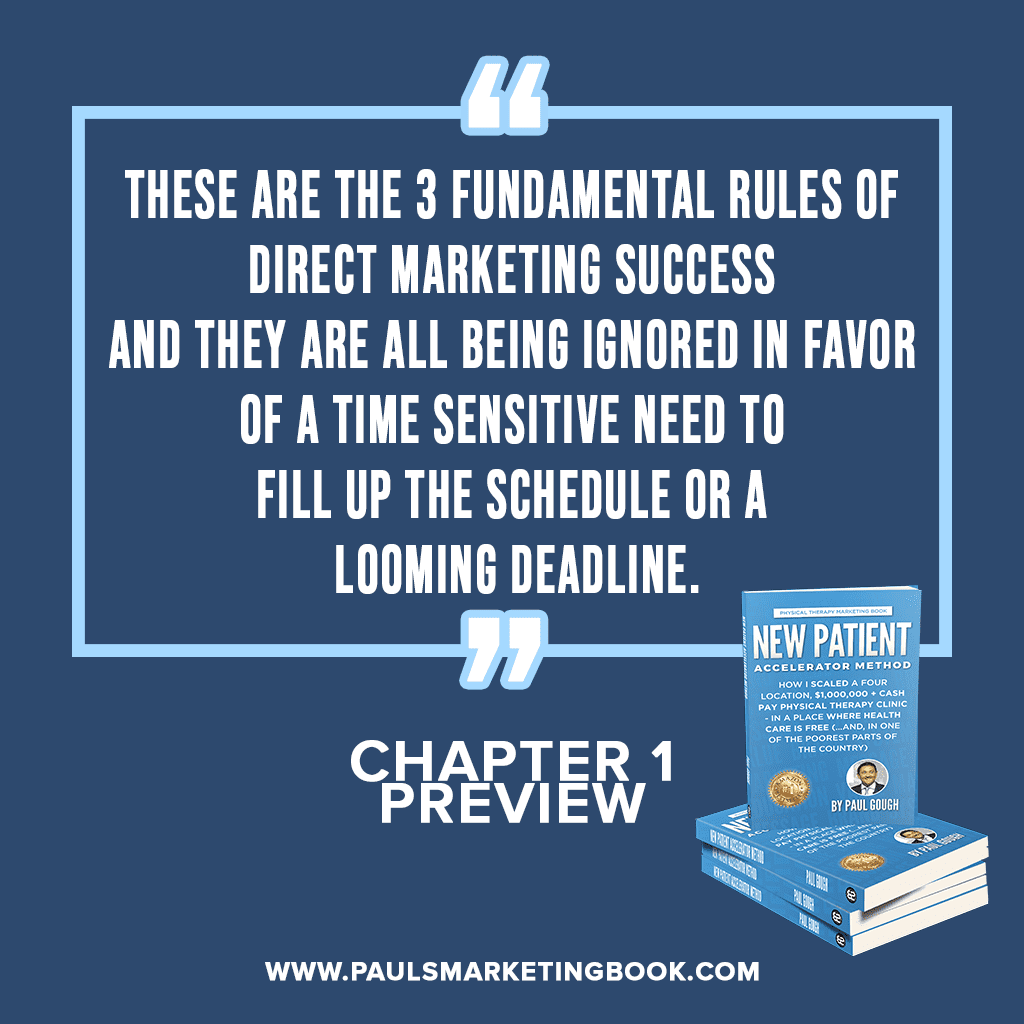 "Here's the worst bit about a lack of early marketing success: the business owner, still scared from the loss and disappointment of the failed marketing campaign, now concludes that "marketing doesn't work in my town" or that "marketing doesn't work for physical therapy clinics". He is convinced that the only way to grow is to do what everyone else does – market to doctors or wait for referrals from past patients.
With that way of thinking the business owner is now sentenced to a lifetime of perpetual struggle doing what everyone else does, and getting what everyone else gets – a practice struggling to make a profit.
I appreciate that some people are addicted to that struggle – but I assure you, it does not have to be that way. And, if any of that sounds familiar then you are not alone, as this is pretty much the same mistake that I made, and it is how my first two years trying to market my clinic directly to the public looked.
Thankfully though I discovered that marketing does work in my town and it does work for physical therapy clinics – I just needed to change what I was doing and how I was doing it. I needed to change the strategy.
I needed to accept that I couldn't help anybody and everybody in pain and I needed to get clear on "who" it was I wanted to talk to (my target market). Once I knew that, it made it much easier to change the message in my ad.
I realized that words are powerful, and much like going on a first date, if I talked more about me (than her), I wouldn't get a second one. The same is true with marketing. The ads have to talk more about them than you and you have to give them a reason to get in touch with you that is more exciting and less risky than the "call now to book an appointment" phrase that was the ruin of nearly every ad I ever ran."
…Continued on page 14.
Paul Gough's Marketing book for Physical Therapists –
"New Patient Accelerator Method" is OUT NOW!
To get your copy go here now: www.paulsmarketingbook.com
NOTE: If you order it directly from the OFFICIAL WEBSITE (NOT AMAZON), you'll pay the same price, BUT, I'll be giving you some incredible bonuses for doing so… When you go to www.paulsmarketingbook.com – choose purchase OPTION 2 to get the very best free BONUSES that will come with your book including my Wealth Marketing DVD program, Free Facebook Ads PDF, and two months worth of the Cash is King Publication and Coaching CD…
Go here now to get your copy: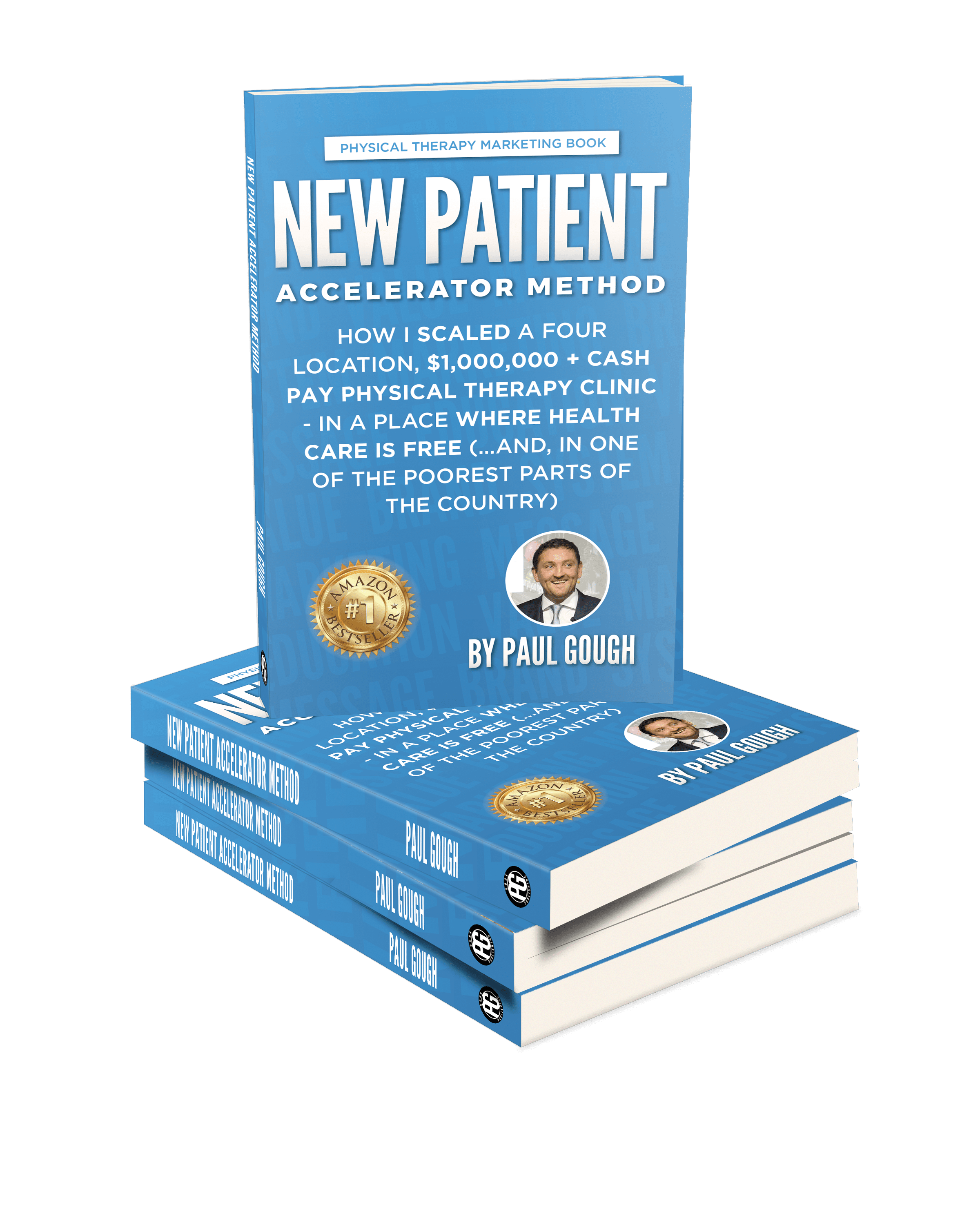 Connect with me on Social Media – and use the hashtag #paulsmarketingbook when you get the book and share your selfie so I can reach out personally to say thank you!
– Facebook
– Instagram
– Twitter
– The Physical Therapy Business School Podcast
– LinkedIn
– YouTube