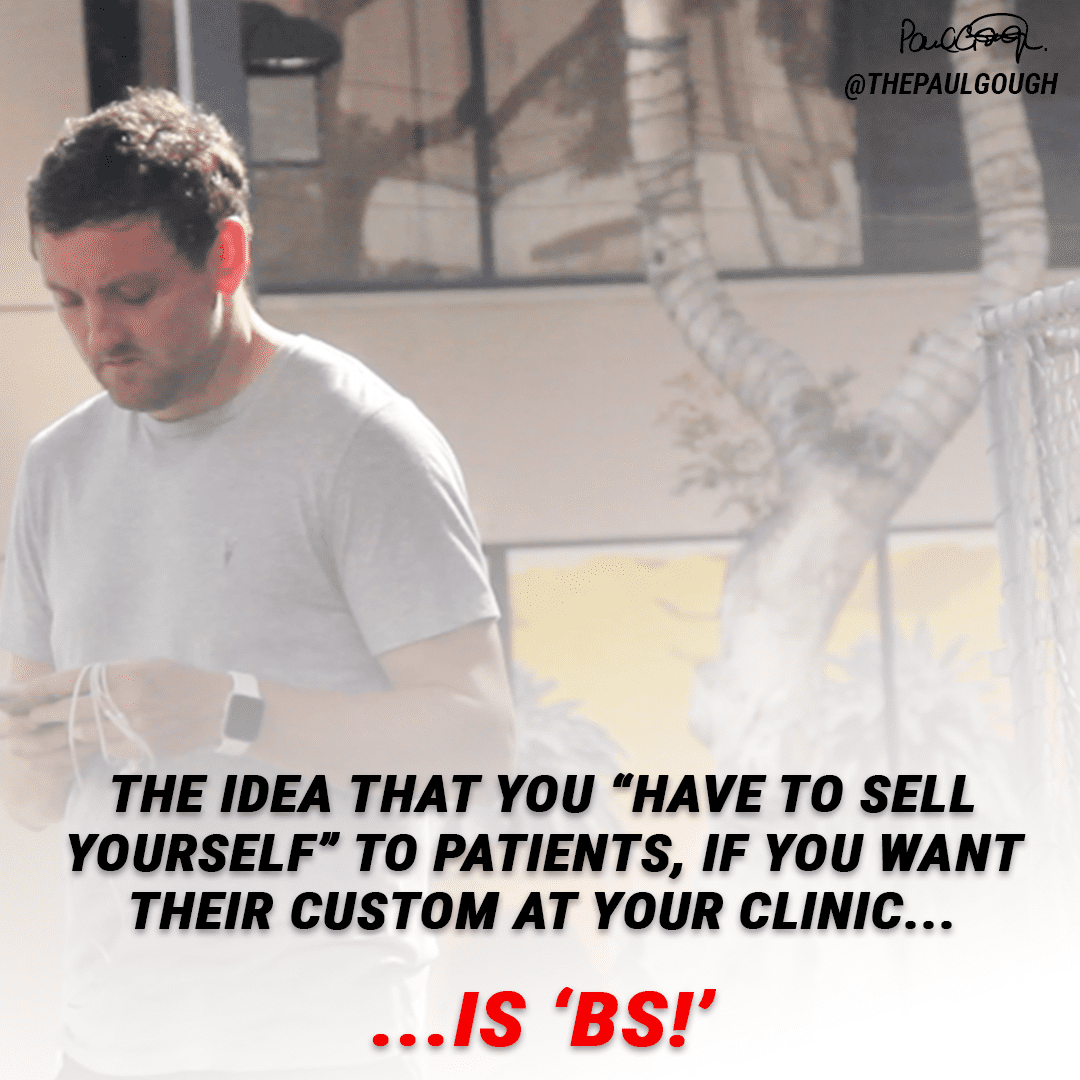 So I spent the weekend hosting a "Q2 Mastermind Event" here in San Diego…
…39 of the worlds greatest Business Owners gathered together to discover what is truly possible for their business.
What is the purpose of a Mastermind Event – as I see it??
"To become AWARE of the things that
you don't even know that are currently
holding you back from being successful in your business –
and THEN know what action to take once you do (become aware)".
It's also about being part of a likeminded community – here's how day 1 ended: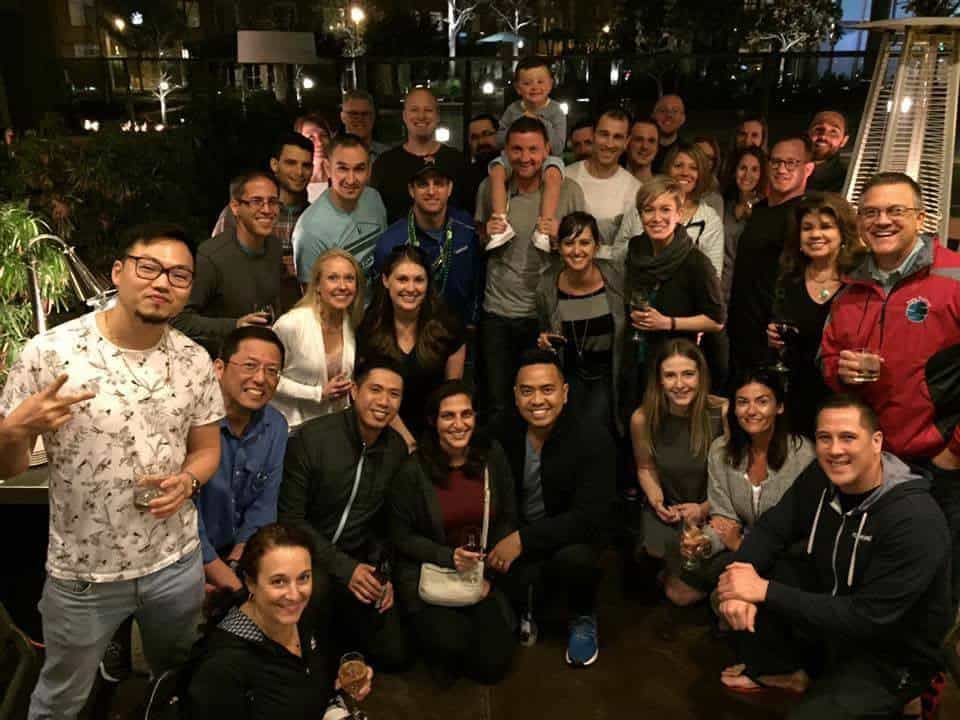 That's us all at the drinks reception – my boy "Harry" included – all yapping about what had been covered in the day.
One of the main topics we discussed?
The idea that you "have to sell yourself" to patients, if you want their custom at your clinic.
The reality of that statement?
Complete "BS"!
It comes wth the FALSE belief that people make decisions on things like your "skills", how many CEU's you've accrued, how many years "experience" you have, how many awards you've won and so on and so on.
Now a lot of people will push back at this statement…
But, and to give it some context – when was the last time you got on an Aeroplane and asked the Pilot how many flights he's flown, how many hours in the flight simulator he's had, when his last training weekend was – or even, when was the last time he's actually flown this path you're going on.
No body does that – and even if they do – there wouldn't be enough to run a profitable airline.
How do we choose an Airline?
On the final DESTINATION.
We pick the place we want to go – we find the Airline that seems to be able to fit our needs best – and book it.
That's it.
And so it is with PT…
Their decision to choose a PT (in the free market of direct access) is based upon their PERCEPTION of whether or not you can get them to their final destination (golf, cross-fit etc).
The easiest way to change their perception?
Talk about THEM.
(If the conversation is about you – you loose).
So when it comes to "selling yourself" – lets turn it on its head…
…and make the "selling conversation" about them and the DESTINATION that they – the people you serve – want to get to.
Do that, and watch how little energy you'll ever have to use in selling yourself.
Anyhow…
There's more on this topic on this Facebook Live that I recorded live at last nights Drinks reception:
Press Play: Why You Don't Need To Sell Your Self As a PT!
Please pay close attention to the amazing community of PTs (and Chiropractors) behind me…
…it's a special group and every one of them is working with me to learn how to build a business that that is successful with OR without them!
Sincerely,
Paul Gough
P.S Do we need to talk about your clinics Marketing Plan?
Do you have one?:
– 3-Day Marketing Workshop: "More Patients, More Profits 2017" >
A lot of PTs fail at Marketing simply because they run "one off ads"…
..you know the kind, where you risk it all by putting $500 into an ad and then you sit and wait – and wait – and wait – for the phone to ring…
…and you're judging your entire Marketing success on this one ad.
You need to plan your Marketing 30, 90 and up to 12 months in advance.
If you want to work with me to have a Marketing Plan created for you – in less than 72 hours – then come and join me, and click below to see when I'm in a city near you:
– 3-Day Marketing Workshop: "More Patients, More Profits 2017". Alexandria, VA, May 20-22nd > 
We'll work together in a small room of 9 other PT Business Owners and I'll make sure that you know how to write a compelling Message/headline for your ads (Facebook, Social Media, Newspaper, Magazine etc), how to select the right PLATFORM…
…and, take you through a 4 hour exercise that will show you how to budget and forecast a 12 month Marketing Plan that'll work for you year on year.
If you are planning on doing any direct-to-consumer Marketing in 2017 – to get your clinics name and brand out there – it'll help if you have a Plan.
Come get one from me:
-3-Day Marketing Workshop: "More Patients, More Profits 2017" >
MORE RESOURCES ON THIS TOPIC:
Click here to watch The Paul Gough Physio Rooms Show EP:031 – Why So Many Physios Are Failing In Private Practice >
Click here to listen to Audio Experience EP:04: Why You Should Never Ask Your Patients "IF" They Have Any Questions >
Be sure to subscribe to the podcast on iTunes and the show on Youtube, to keep up with the pack!
===
For more PT Business Education Material:
Click here to subscribe to my email list and I'll send you more Physical Therapy Business Education >>>