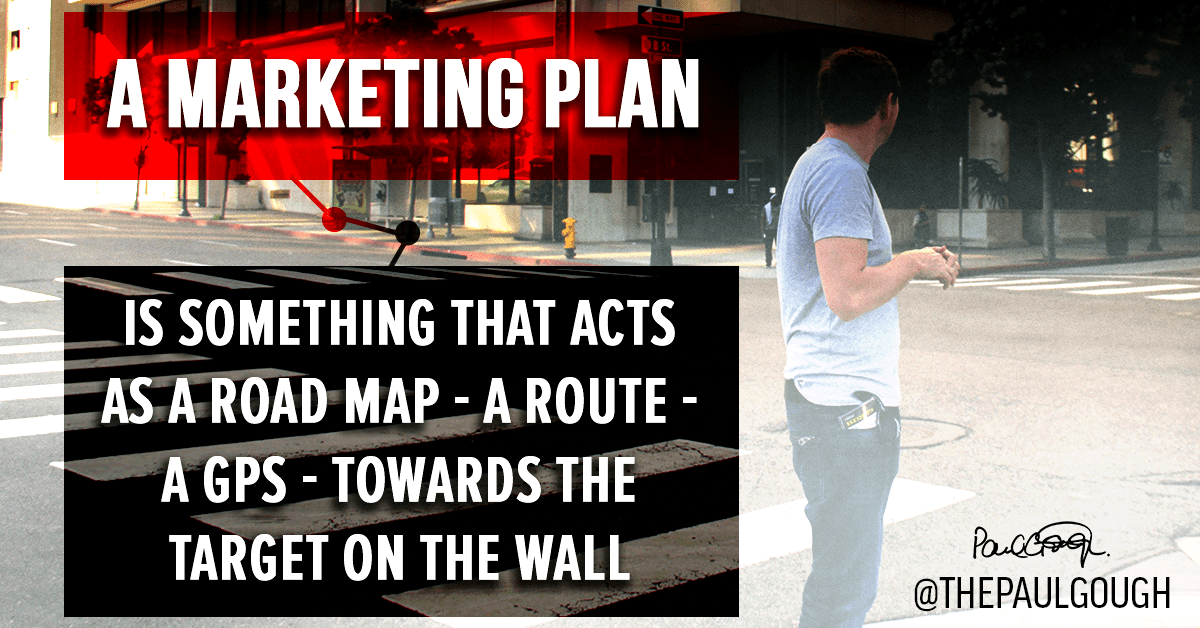 In comes a question from a PT from Oregon just a couple of days ago:
===
"Paul, I am some-what confused over what is a PLAN – over a Marketing SYSTEM…
I hear you talk about both.
Can you shed some light on the difference between the two as I am pretty sure that I need both – I just don't know which one to start with".
– Mike, Turning Point PT, Oregon.
===
"Great question"!
And, let me answer it for you.
A Marketing Plan is something that acts as a road map – a route – a GPS – towards the target on the wall.
What's the "target on the wall"?
Well, that could be something like $10,000 per month revenue from cash-pay patients, or direct-access type referrals.
If you are an In-Network Provider – setting a PLAN like this – and executing it – is likely to be the best money you'll ever earn.
Why?
Because if 80% of your business, that is reimbursed by Insurance, is averaging $110 – and you can bring in an additional 20% of revenue at a cash-pay rate of, lets say, $170, then the additional $60 profit is all YOURS.
All of it.
This is called LEVERAGE – and it exists inside of every business when you choose to look closely at the REAL income streams happening in it…
(You do look at this, right?)
More:
If you are a CASH-PAY clinic – having a Marketing PLAN is an absolute must…
…In-Network providers have an out-let – a "go-to", if you like – in Doctors, so they can, for now, always fall back on the doctors-luncheon trap in the absence of a PLAN…
You and I don't have that luxury.
So what is a Marketing System?
Well, a SYSTEM – that's how you do the work of FULFILLING the plan…
A SYSTEM helps you to hit the numbers that you set out in the PLAN – more easily and faster.
So the inevitable question is, which one should you concentrate on first?
I guess that's up to you to decide…
If you need a PLAN, take a look at this:
– Where to get your New Marketing Plan.>
And if you are wanting to create a scalable Marketing System, then look at this one:
– New Patient Accelerator: Highlights of Module 2 – creating a System
Both are vital – and the order, I guess it depends upon YOU…
Some people like to dive straight into creating a Marketing System and then later realize that the System would be more efficient if it was working towards achieving a goal set out in a PLAN…
…others, they want to do the ground work FIRST, line all the ducks-up in the right spot – THEN get the system running.
It doesn't really matter…
What matters most?
That you make a start!
Just pick one – and actually DO IT! 😉
Sincerely,
Paul Gough
MORE RESOURCES ON THIS TOPIC:
Click here to watch The Paul Gough Physio Rooms Show EP:035 – Even If They Don't Ask For It – Tell Them About It > 
Click here to listen to Audio Experience EP:06 –A Keynote: Halsa Care Group Annual Conference, London >
When you listen to the podcast, be sure to subscribe on iTunes so you can listen in on the go, when you don't have wi-fi, or don't want to eat up your data,
===
For more PT Business Education Material:
Click here to subscribe to my email list and I'll send you more Physical Therapy Business Education >>>