I've just come off the phone from talking with a PT Clinic Owner in Eagle Crest, Oregon…
He told me all about his summer vacation with the kids over to Europe.
His family took a flight from LA to Paris, into Belgium, onto Germany and Austria – finishing in London.
It lasted 3 weeks and involved six flights, trains, buses, Ubers, taxis, and hotels – an RV – a couple of nights camping in a tent as well as having to get the ferry over from mainland Europe to Dover, England.
Sounds like quite a trip, doesn't it?
He told me that it was "the trip of a lifetime" and that all things went according to plan!
So I asked him:
"How long did you spend planning that trip?"
He said over a year.
It occurred to me right there and then that this business owner had spent longer planning his vacation than most owners do planning for business success. 
Think about it…
It seems that business owners want to do anything BUT plan for business success and yet when it comes to buying a house, a new car, going on vacation (all of the things are funded by the success of a business) those things are PLANNED for meticulously.
Over the last few years we've helped a lot of business owners find more success…
And one of the reasons we've done so is that we have been able to get them clear on what success looks like – and what must be done to achieve it.
Right now I am seeing a lot of activity/chatter/shouting online…
… I'm watching a lot of people telling you to "work harder" and "hustle" even more.
As if getting up one hour earlier and going to bed one hour later will solve your business problems.
(Really??)
I am going to suggest something radically different than that approach that won't appeal to everyone:
Work smarter not harder.
Plan instead of hustle.
Think instead of reacting.
Any one of those three things is a much better strategy than depriving yourself of more sleep.
(If in doubt, ask the mother of a newborn baby how well she's able to function the next day with no-sleep…)
I am proposing that you go back to basics and get a MARKETING PLAN that'll set you up for sustained success in your clinic.
What's more, if you want some help to create a marketing plan for your clinic then we'd love to help you:
– Click here to confirm your Free Marketing Plan Strategy Call (40-60mins)
If you want a proven way to get 2-3 more new patients per week, then I'd like to offer you a one-on-one consultation to show you how for free:
– Click here to confirm your Free Marketing Plan Strategy Call (40-60mins)
It really isn't all that difficult to get the jump in your business that you're looking for – and it all starts with you having the right marketing PLAN to follow.
I am sure that when you get it, you'll achieve your financial goals much faster and with much less hard work and hustle.
Full details of my offer are here: 
– Click here to confirm your Free Marketing Plan Strategy Call (40-60mins)
Sincerely,
Paul Gough
MORE RESOURCES ON THIS TOPIC:
Paul Gough's Marketing book for Physical Therapists –
"New Patient Accelerator Method" is OUT NOW!
To get your copy go here now: www.paulsmarketingbook.com
NOTE: If you order it directly from the OFFICIAL WEBSITE (NOT AMAZON), you'll pay the same price, BUT, I'll be giving you some incredible bonuses for doing so… When you go to www.paulsmarketingbook.com – choose purchase OPTION 2 to get the very best free BONUSES that will come with your book including my Wealth Marketing DVD program, Free Facebook Ads PDF, and two months worth of the Cash is King Publication and Coaching CD…
Go here now to get your copy: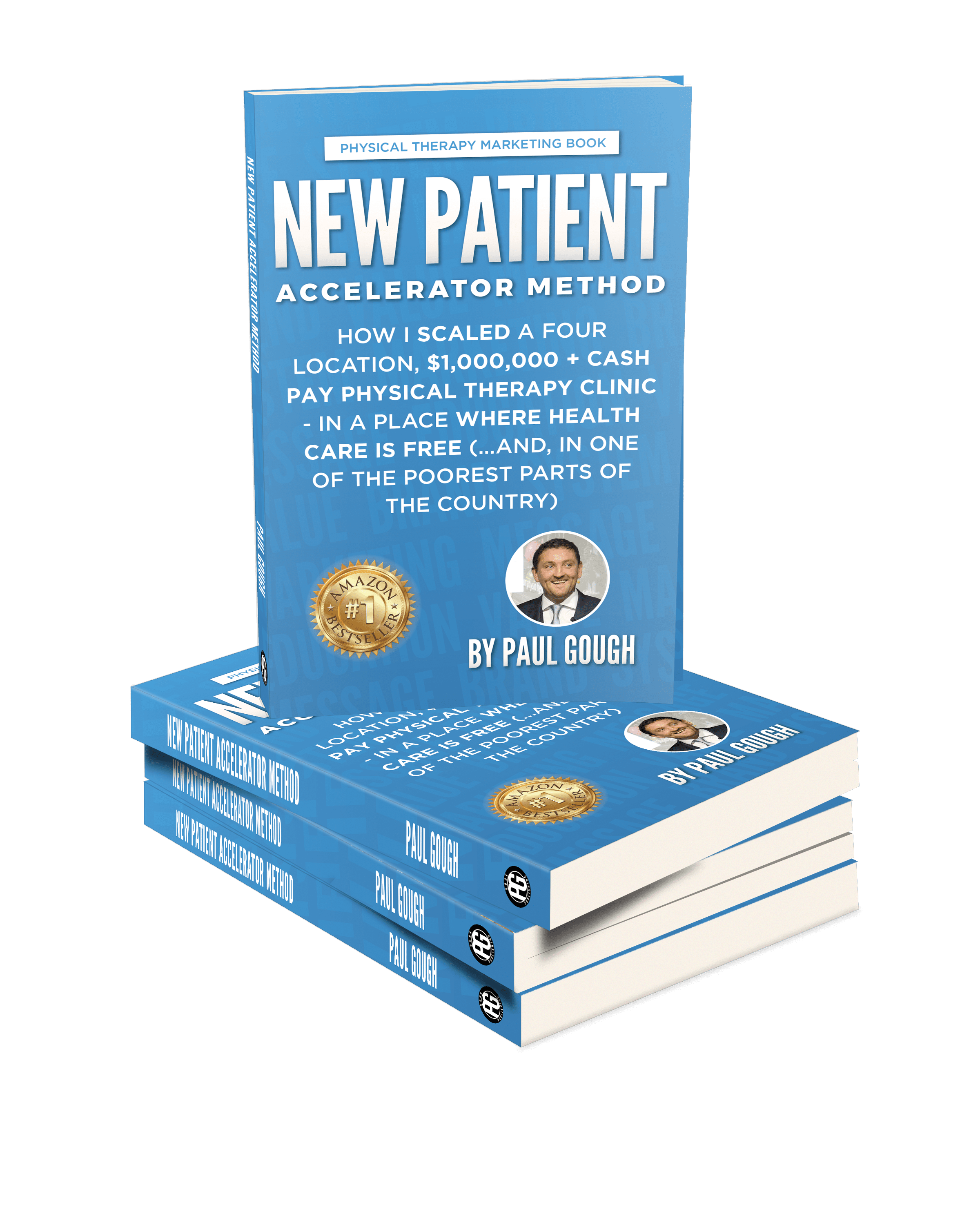 Connect with me on Social Media – and use the hashtag #paulsmarketingbook when you get the book and share your selfie so I can reach out personally to say thank you!
– Facebook
– Instagram
– Twitter
– The Physical Therapy Business School Podcast
For more PT Business Education Material:
Click here to subscribe to my email list and I'll send you more Physical Therapy Business Education >>>