Seasons greetings from England 🙂
I'm back in the UK for the festive season after another incredible few weeks of seminars and events that took place in Las Vegas and Orlando…
We had more than 250 clinic owners from all over the world come out to my Mastermind Event and Sales Bootcamp, and aside from battling the usual jet-lag, I'm excited to be back in the UK and looking ahead to 2019.
And it's that which I want to talk to you about today.
What are your plans for 2019???
Like you, right now, I'm caught in the middle of 10,000's of people who are "busy" planning and preparing for Christmas.
They've likely been planning for Christmas for months.
Everything from the presents, the decorations, the cards, the turkey – the family gatherings and social evenings with friends – are all PLANNED and/or already executed.
It was when my girlfriend's mother told me how "ready" and how "prepared" she was for Christmas ALREADY (…this was three weeks ago when she was in Florida with us)…
…that it occurred to me that most people spend more time planning for a successful Christmas than most clinic owners ever spend planning for success in their business.
Would you agree?
Think about it…
How many people who own a business right now are taking the time to do things like create a Budget and then consider all of the marketing activities that will be required to hit that Budget?
And even work out a hiring plan that factors in the fact that what most business owners want (in terms of revenue), could never ever be achieved with the staff they've currently got.
(Very few is the answer).
And that, my festive friend, is THE reason why success will not come their way.
Lets go back to Christmas…
Most people will achieve their objectives this Christmas; presents will be under the tree, food and wine will be on the table and memories will be made with people they love.
Yet, it would never happen if people woke up on Christmas day and "wished" for it.
Santa is a kind, generous man – but he isn't a miracle worker.
Most clinic owners will wake up on Jan 1st, 2019, wishing/hoping for that type of miracle to happen – just because it's Jan 1st (…and that's what everyone does, every year on new years, despite never getting what they want when they did it last year…).
One of the massive shifts I've made in my coaching programs in 2018 – that will continue into 2019 – is to move away from the "just take action" mentality (…that is killing business owners' chance of success), towards a more disciplined and focused approach to building a solid business that puts PLANNING and THINKING at the forefront of everything that you do.
On January 22nd I'm holding a one-day seminar for 25 people and we will be doing 12 months planning in just one day.
Do you want to come?
Essentially, we'll be working together to answer the question of:
"What is possible for your
business in 2019? – And how
to make it happen".
On the morning I'll be showing you how to create a Annual Budget – you will do it in the room with me – and then we'll spend the afternoon working on a 12-month marketing calendar and map out all of the activities that will be required of you to hit the goals you set in the Budget.
More:
We'll talk through your hiring plan – and consider when and who you will need to hire as you move through the year.
Even more:
All of your key metrics and performance indicators will be outlined and you'll leave knowing precisely what needs to be done – and by who – to hit your goals.
It's called a "Strategic Planning Day" and I've got 18 of the 25 seats filled.
It's happening Tuesday Jan 22nd – in my new hometown of Celebration, Orlando, FL and the price is just $997.
How To Attend My
"Strategic Planning Day"
If you're interested to come and work with me so that we can do an entire years planning – in just one day – then email paul@paulgough.com now.
There'll be a quick qualification call to have with someone from my team – and assuming that you're a good fit, we'll get to work together ON your business, next month.
Reach out to paul@paulgough.com now if you're interested in coming.
Sincerely,
Paul Gough
P.S I cover more about this topic – Strategic Planning – on my most recent Podcast:
– EP40: Strategic Planning And Making Better Decisions About Your Business.
Be quick to listen to the Podcast and then reach out to us: paul@paulgough.com to secure your spot the 1-day Strategic Planning Workshop that takes place Jan 22nd in Orlando, Florida.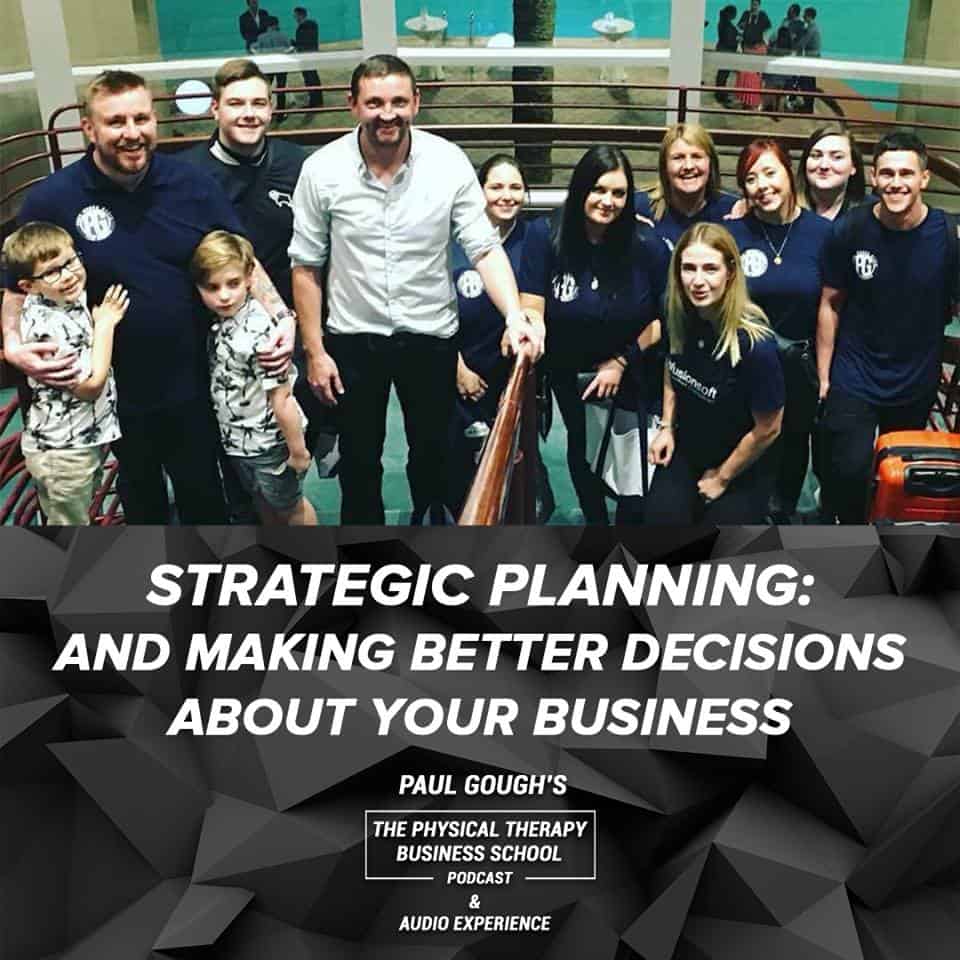 MORE RESOURCES ON THIS TOPIC:
Paul Gough's Marketing book for Physical Therapists –
"New Patient Accelerator Method" is OUT NOW!
To get your copy go here now: www.paulsmarketingbook.com
NOTE: If you order it directly from the OFFICIAL WEBSITE (NOT AMAZON), you'll pay the same price, BUT, I'll be giving you some incredible bonuses for doing so… When you go to www.paulsmarketingbook.com – choose purchase OPTION 2 to get the very best free BONUSES that will come with your book including my Wealth Marketing DVD program, Free Facebook Ads PDF, and two months worth of the Cash is King Publication and Coaching CD…
Go here now to get your copy: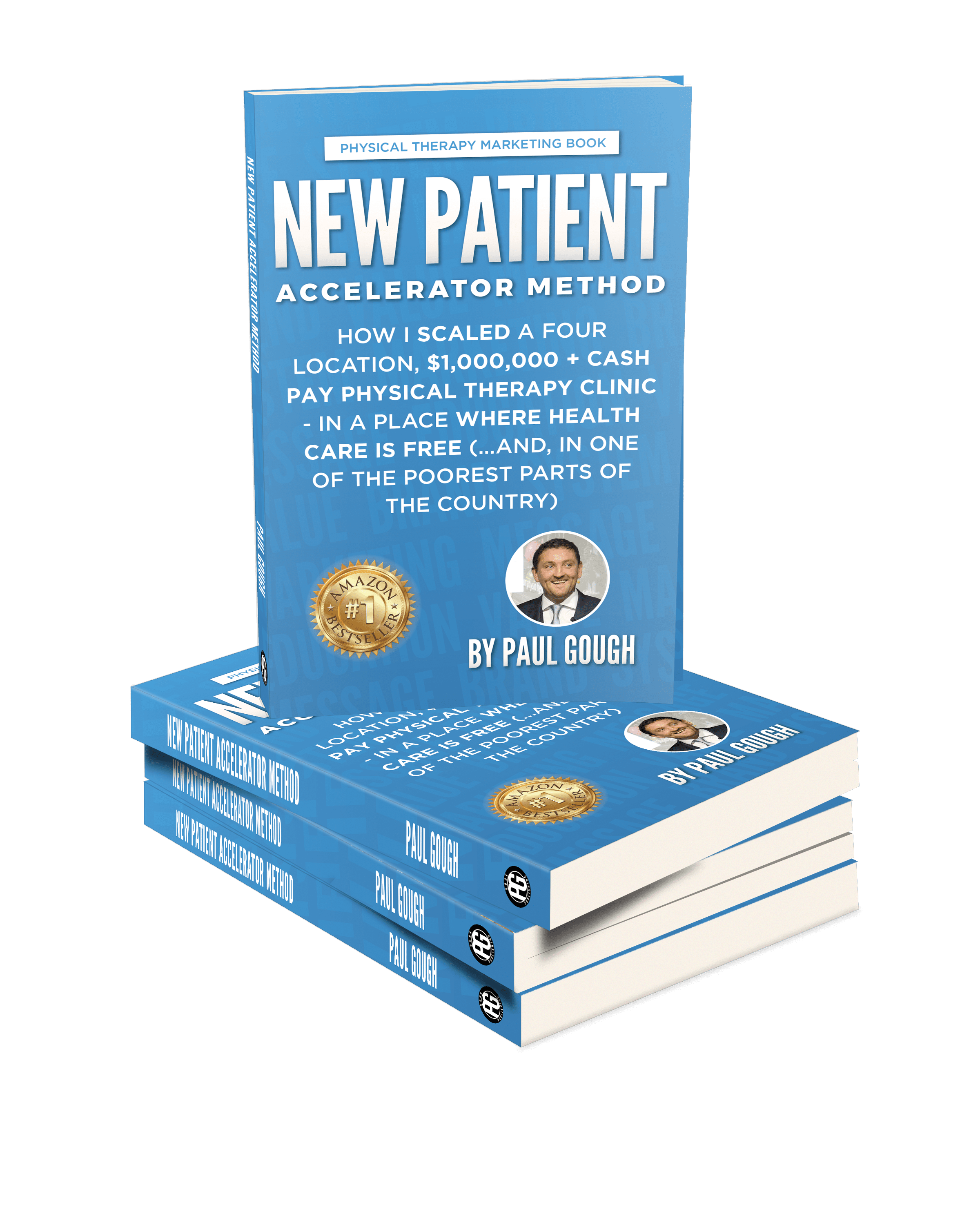 Connect with me on Social Media – and use the hashtag #paulsmarketingbook when you get the book and share your selfie so I can reach out personally to say thank you!
– Facebook
– Instagram
– Twitter
– The Physical Therapy Business School Podcast
For more PT Business Education Material:
Click here to subscribe to my email list and I'll send you more Physical Therapy Business Education >>>