So there I was at the weekend, watching my 5-year-old son Harry make his debut for the local soccer team here in Celebration…
When we arrived to reside in the USA back in January, one of the things we spoke about was getting the kids involved in as many sports/physical activities as we could.
Soccer was an obvious one.
(Being from the UK, it is kind of assumed that it is the sport you and your children will be involved in. To say that it is in our blood is an understatement).
So, we made our way to the local team and asked for information on how to join and we were told that he could start in April.
In the mean time, I made a Plan with Harry that we would spend every Saturday morning working for at least one hour with the intention of improving his ball skills.
We practiced everything from controlling the ball, heading, running with the ball and even striking a rolling ball, first time, with timing and precision (the latter being very difficult to do).
Fast forward 10 weeks later, and the Plan paid off.
Harry started his first game and not only did they win – he also scored two goals 🙂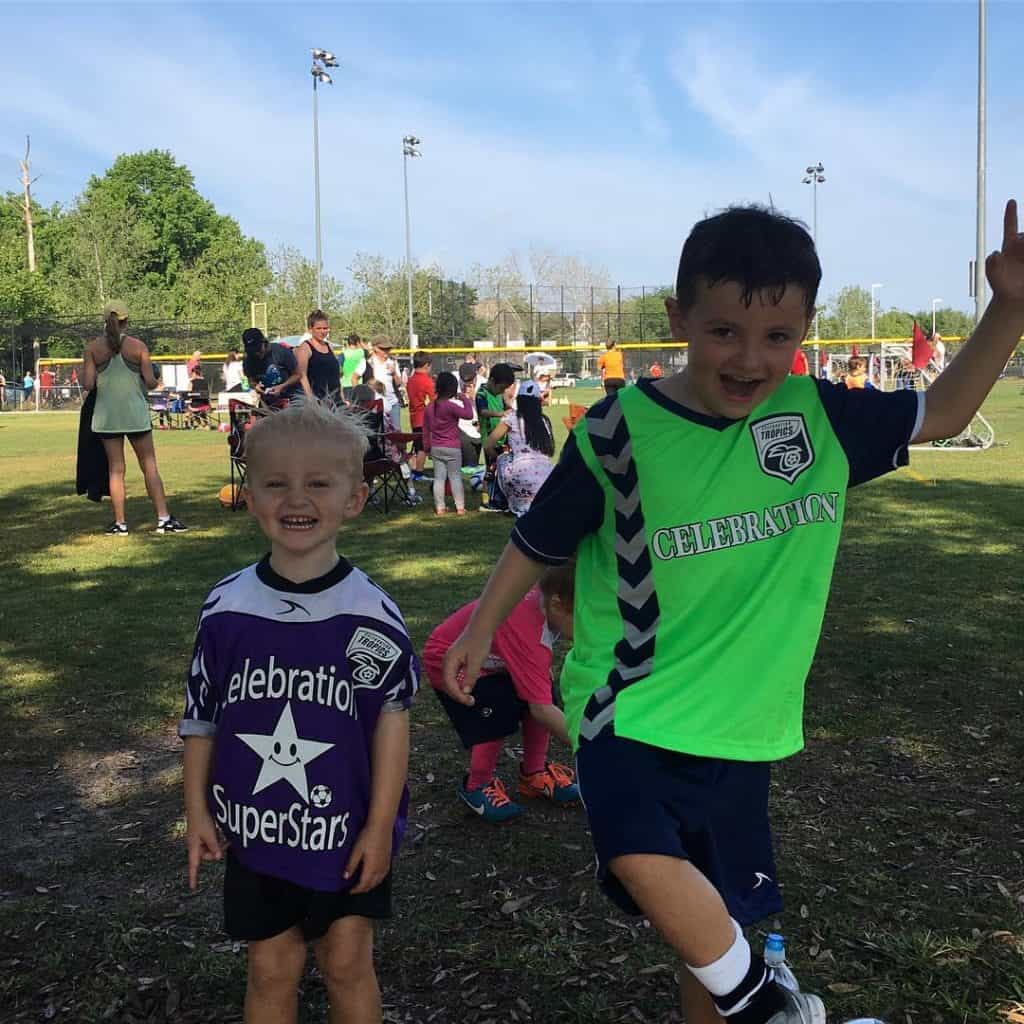 Interestingly, both goals were scored striking a rolling ball and exactly in the way that we had practiced and planned for in the weeks leading up to his first game.
I was a very proud daddy.
But I wasn't surprised.
Why would I be?
We had Planned for it.
We worked on two or three specific skills that I know contribute to anyone being able to hold their own in a game of soccer.
We had a Plan – we executed it, and we got results.
(That is usually what happens when you have the right plan and you follow through on it).
What's this got to do with business?
Well, it reminded me that nothing happens without the right Plan.
As a business owner, it's important that you have a PLAN for success.
You also need to identify and then monitor the 2-3 things in your business that will make the difference to your business (I call them critical drivers).
Much like with Harry, I identified three specific things to work on with his soccer skills, and it's the same with your business.
There's only ever 2-3 things that you should be improving at any one time, the key is to know what they are.
Do you know yours ?
If not, why not come and join me at my upcoming Strategic Planning Day that will teach you how to grow your business by getting better at understanding your numbers – and working from a PLAN.
Details here:
It's a radical idea, I know…
To actually spend time making a Plan and follow through on it.
It isn't "hustle"… it isn't "grind"… and it isn't the dumb-ass "work-until-you-drop" mentality that is plaguing/enslaving the entrepreneurial community these days.
It is, however, very effective and equally as profitable.
Two seats left – the deadline is this Friday (12th April).
Details here:
Finances and Planning are not everyone's strong point…
If you're thinking that they're not your strong point either, then that's why you must come to this event.
Sincerely
Paul Gough
P.S Something that Harry told me this weekend is this…
"Practice makes it easy".
Bizarrely, I had never heard that before and there is my five-year-old son to be the one teaching me it.
Two things to be learned from this:
You're never too old to learn
If you're not good at numbers and you're not good at planning – spend the whole day doing it with me and it'll become much easier. You can practice with me for a full day.
P.P.S We're already into Q2 of the financial year… if it isn't going as you would have hoped, choose wisely about ignoring this invite.
If it isn't going to plan – it's probably because the plan you have has got a hole in it.
Work with me for one day and I'll help you find it to make 2019 a prosperous one.
Details here:
MORE RESOURCES ON THIS TOPIC:
Paul Gough's Marketing book for Physical Therapists –
"New Patient Accelerator Method" is OUT NOW!
To get your copy go here now: www.paulsmarketingbook.com
NOTE: If you order it directly from the OFFICIAL WEBSITE (NOT AMAZON), you'll pay the same price, BUT, I'll be giving you some incredible bonuses for doing so… When you go to www.paulsmarketingbook.com – choose purchase OPTION 2 to get the very best free BONUSES that will come with your book including my Wealth Marketing DVD program, Free Facebook Ads PDF, and two months worth of the Cash is King Publication and Coaching CD…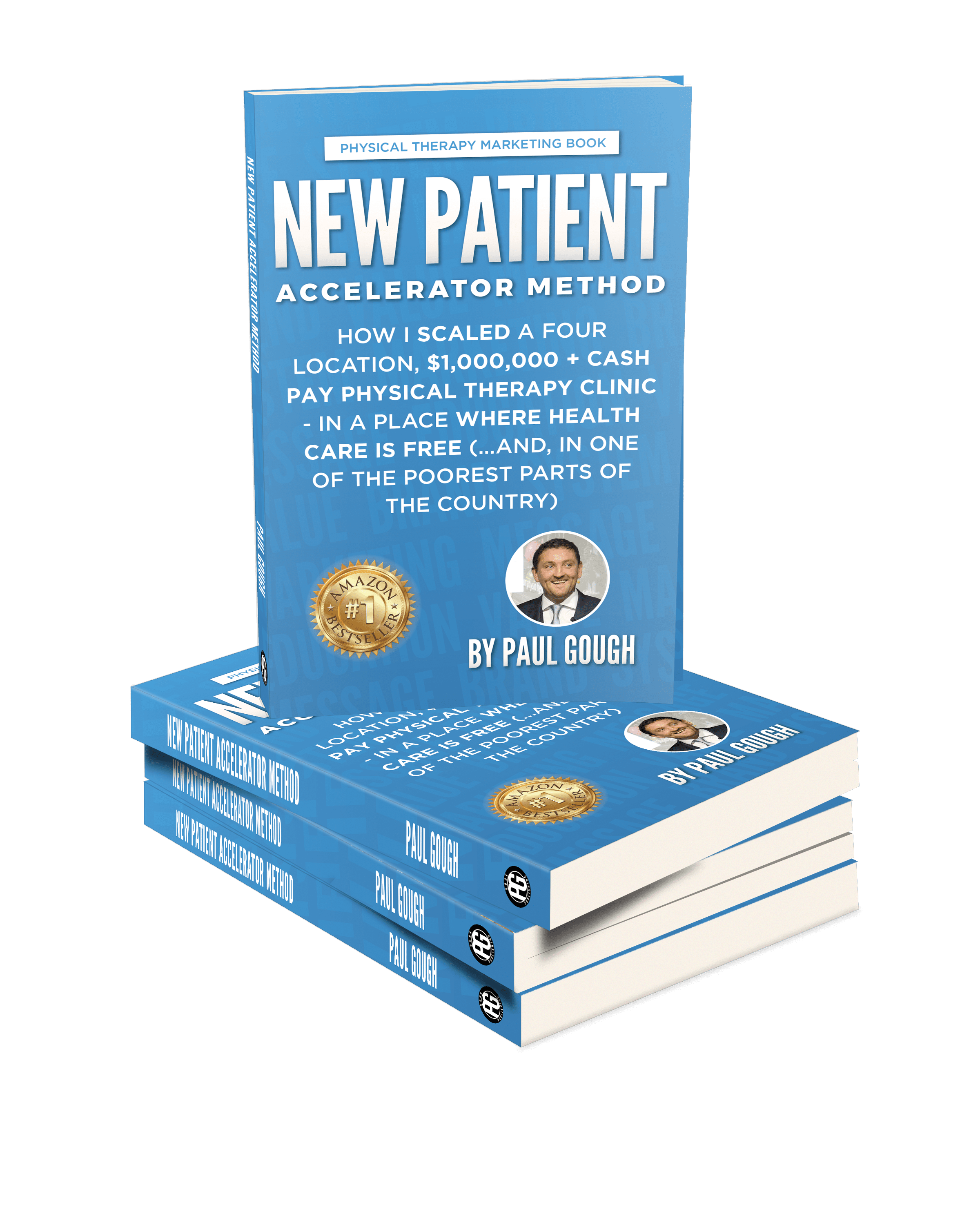 Connect with me on Social Media – and use the hashtag #paulsmarketingbook when you get the book and share your selfie so I can reach out personally to say thank you!
– Facebook
– Instagram
– Twitter
– The Physical Therapy Business School Podcast
For more PT Business Education Material:
Click here to subscribe to my email list and I'll send you more Physical Therapy Business Education >>>