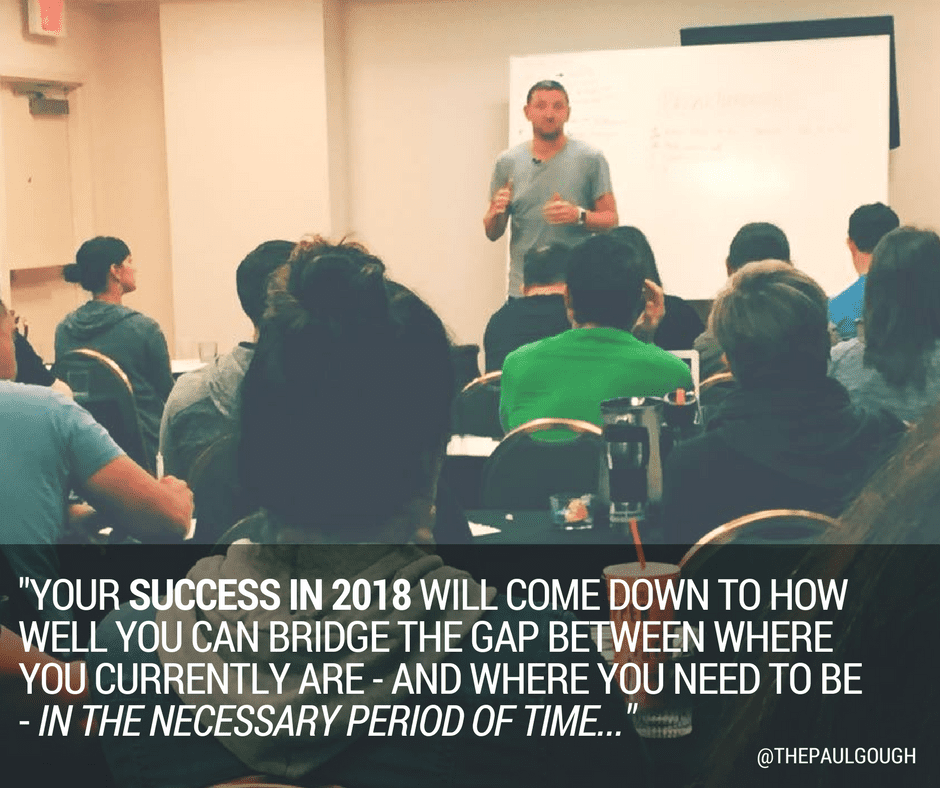 – Join Paul Gough's Next 3 Day Marketing Plan Workshop: More Cash, More Profits 2018
"Give me the news – even the bad news…
…just don't let me read about it IN the news!"
It's a quote that I told my staff at my physio clinics annual planning event recently…
What does it mean?
It means that I want my team to tell me how my clinic is doing – even if it is bad – before I find out about it the hard way.
What is the hard way?
Finding out months after I would have had a chance to solve whatever the problem was.
Think about it…
Most business owners find out the bad news – that their clinic did not produce as much profit in the last 12 months as was expected – usually, and often only when they sit in front of their accountant after the year is over.
What can you do about it then?
The answer is nothing.
The solution?
To figure out where the GAP is in real time and correct it before you sit in front of the accountant and he or she gives you the bad news.
How do you do that?
You create a Plan.
A Marketing Plan that gives you a detailed route to the goals and targets that you need to achieve on a weekly and monthly basis in order for you to hit your yearly goals…
It means that you can look at the Plan and find out how you are doing in comparison with how well you said you would do – and how well you need to be doing – and try to bridge the gap!
Having a Plan is the only way to ensure that you give your self the best shot at achieving your clinic's financial goals this next 12 months…
This year I'm holding my Profits Workshop where you can work with me on creating a detailed 12 Month Marketing Plan that will allow you to get the news – good or bad – before it becomes the news and it's too late to do anything about it.
Your success in 2018 will come down to how well you can bridge the gap between where you currently are – and where you need to be – in the necessary period of time…
It's too late once the year is over to be told that you were $50k down, again…
Better to know in real time so that you can adjust your activities in real time and for once, finish $50k up!
There's no great mystery to business success – just the commitment to actually putting yourself in a position to affect the results before they hit the accountants desk…
If you want to put your self in that position come and work with me and learn how to create a 12 month Marketing Plan for your clinic.
Full details here:
– Paul Gough's 3-Day Marketing Plan Workshop: More Cash, More Profits 2018
Click the page and then complete the Application form and you and I can talk on the phone to confirm that this is right for you.
Seats are going – going – going fast…
Seems like every time I send an email another one is taken…
Go here to complete your Application:
– Paul Gough's 3-Day Marketing Plan Workshop: More Cash, More Profits 2018
Sincerely,
Paul Gough
MORE RESOURCES ON THIS TOPIC:
Click here to watch The Paul Gough Physio Rooms Show EP:031 – Why So Many Physios Are Failing In Private Practice >
Click here to listen to Audio Experience EP:012: Risking A Large Side Of The Upside >
When you listen to the podcast, be sure to subscribe on iTunes so you can listen in on the go, when you don't have wi-fi, or don't want to eat up your data,
For more PT Business Education Material:
Click here to subscribe to my email list and I'll send you more Physical Therapy Business Education >>>