Week 2 of "Accelerator" is here…
…and this week it's all about the most important part of ANY Marketing system – which is quite simply the missing link for a lot of PT Clinics…
It's something called the 'conversion system'.
We've all experienced this: patients referred by a doctor, a workers comp, or direct access client who makes an "inquiry" about your services… but for some reason will still stall over coming to see you.
But no matter what excuse they have, or what referral source they come from – there IS a way to put an end to people resisting.
Week 2 is where my students discovered how to do this.
There's never been a better ROI on my time than building out this 'conversion system'.
Sound like something you'd love to do too?
I'm about to share with you the 10 biggest takeaways from Accelerator that I shared with my students – which are quite simply the most important part of any PT Marketing system.
You're going to want a pen and paper at the ready for this…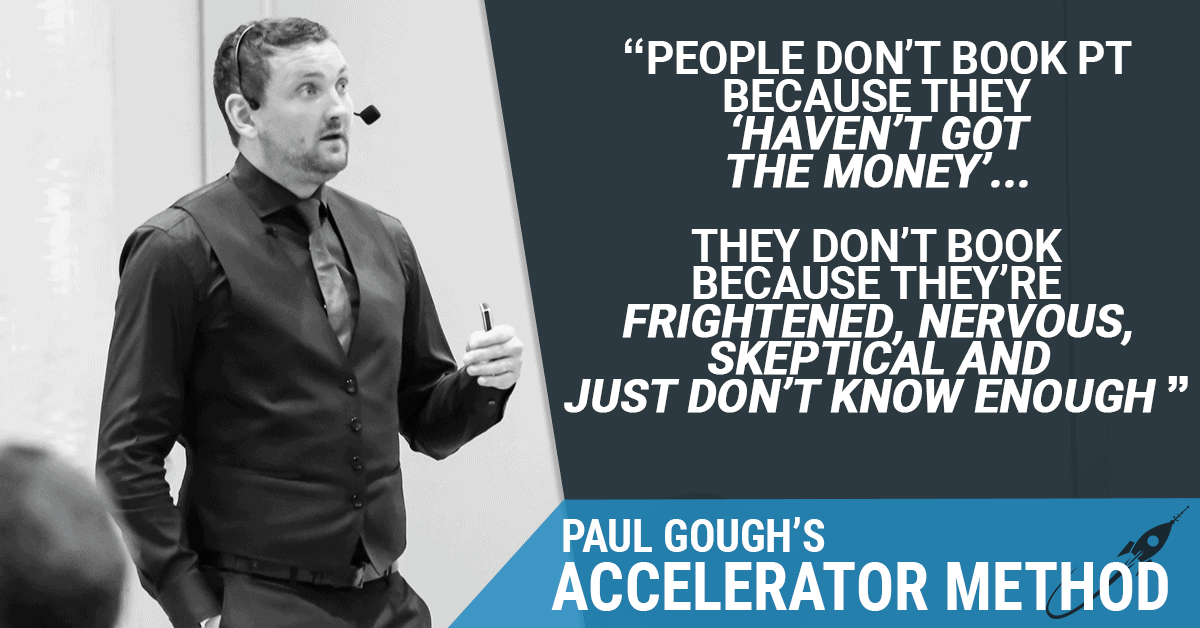 Key Takeaways
#1 The Consumer Has Changed
As the cost of health care rises, as co-pay and deductibles go up – it's no wonder why people show resentment to paying extra fees.
A lot of Physical Therapists think that the consumer knows what we do – in reality, most have no clue what we do.
People don't book PT because they haven't got the money – they don't book because they're frightened, nervous, skeptical and just don't know enough.
So how can we expect them to risk paying higher prices?…
Just like you would need more information before making a decision about paying $100 or more for a product or service – patients are the same.
Understand this – and you'll be able to grow and scale your business with more ease.
What can you do to overcome the price objection?…
#2 Educate, Educate, Educate
After you've picked your 'perfect patient' (covered in week 1's highlights of 'Accelerator')…
…the next thing we have to do is educate them on the VALUE of how you can impact their life so much, that they'll want to pay you for it.
Doesn't it make sense that if you want people to pay out of pocket, fund their "co-pay", and even just give up their time, it has to appear to be worth it for them??
And at very least, they have to PERCEIVE that it's going to be worth it to them…
No matter how good you think you are – or how good others say you are – if they don't think you are the right fit for them, your Marketing won't work.
And no one is ever going to give you time or money unless you prove value first VIA your marketing (…especially NOT when the cost is more than $100).
So, lets take a look at how we can begin this education process…
#3 The Power Of The Follow-Up System
In week 1 I covered the importance of giving away free information to begin building trust and educating more people on what we do – so they can make a better decision.
This is where the follow-up system comes into play.
People need to feel more certainty in the outcome they'll get with you, and they need to feel more confident before they invest in your services.
Once they request free information with you – follow-up!
Provide even MORE information – you'll keep building trust, and in the long-run, you'll gain yourself a lifetime patient happy to pay for your services.
#4 Keep Building A Bridge
Once someone has seen your blog, your ad in the newspaper, your Facebook ad and they've made the first decision towards better health by requesting your free information report…
You'd think they'd be ready to say yes to your services, right?
Hoooold your horses, not quite yet (very few will be anyway).
So what can you do? You need to keep moving people in the right direction, making it easy for people to make ANOTHER decision.
The best way to do that is to offer something else!
Maybe a free telephone consultation, an in-house workshop, a taster session – something that allows them to ask you more questions, to build more trust…
Show people that you 'get them', and that you may just be the solution they need – and you'll stand a higher chance of converting them into a full paying patient.
#5 Keep Communicating The Offer
Why? Because people rarely understand anything the first time…
Especially if they're confused, unsure, or in pain – and that's important for you to understand
The worst case for any clinic is that a patient arrives nervous, skeptical and in pain… And when we talk to them about sciatic nerves, about torn cartilage, or a disc problem that's going to take weeks to get any better and it's going to cost them $1500, is it any wonder that patients call up saying they won't be able to make the number of sessions prescribed??
The clinics who fail to communicate in a way which people understand and are able to see the true value in what you do – will keep running into the same problems over, and over again…
Which brings me onto this:
#6 The Biggest Area Of Opportunity With Confused, Skeptical Patients
Is by keeping IN TOUCH.
(With an email follow-up system and the telephone).
I said it above – if we fail to keep in touch and communicate what we really do, we've lost them forever.
The FORTUNE is in the FOLLOW UP – is another one of my favourite sayings!
Most people will think they can get their problem solved elsewhere.
And some will!
…But many won't!
And many will never think to get back in touch with you in fear of looking 'silly'.
You likely know I'm BIG on having systems in place – and this one email follow-up system will address that you know why they might have gone elsewhere, but that you also know they won't get what they NEED by going elsewhere!
This will get patients who drop-off them onto schedule quick, and those who are confused at the beginning, to gain trust.
#7 When New Patients Are MOST Motivated…
…As soon as they request free information!
The moment they request that free information – they are more motivated than ever!
And are likely to make another decision – which good news for you!
So, how do you get them when they're most likely to say 'yes'?
Within the first 24 hours – follow-up with that prospect right away on the phone and you won't miss out on another opportunity to help someone get back to living the life they deserve.
#8 But What If You Can't Get Them On The Phone?
Use other forms of communication!
If you can't get hold of someone on the phone don't stop.
This is where a lot of PT clinics miss out on an opportunity to get more patients on schedule – they think because someone hasn't answered their phone, they're not interested, so they don't pick the phone up to get in touch with them again out of fear they're 'bothering' them.
But the truth is, a lot of people don't answer their phones! People are busy.
You'll never get me to answer my cell phone – but most of the world will reply to an SMS or an email.
Use other forms of communication, and you're likely to have more success with getting in touch.
#9 A New Way To Talk On The Phone
When you do get hold of someone on the phone – It's important that you don't get involved in a "transactional" phone call…
…and no matter how they are on the call, it's about you being able to smoothly transition to a question that is both engaging and emotional.
This allows you to add EQUITY and VALUE to the relationship BEFORE you even get them on schedule.
What's more, doing this will help you better answer the first question that almost all patients ask when they're almost about to book an appointment:
"Do you take my insurance?"
#10 Get Them To Fall In Love With You!
As a small PT clinic owner you're going to get a lot of patients come to you who have already experienced PT elsewhere, or have received treatment from a hospital system that treats them like a billable unit, and didn't even know their name…
So how can you expect them to want to say yes right away, when they're going to have false assumptions about PT because of a previous experience?
You want to find out what they already know about PT…
If they've had PT before what did the like? What did they dislike?
Are they aware that you can do more than just ease their back pain? That actually you can help them to feel more energized, walk further for longer, dance in their favourite pair of high heels with everyone telling them how great they look?…
Get on that level and hey presto!
You'll get prospects to fall in love with you, happy to pay $100+ for a specialized service 'they can't get anywhere else'
Ok, there's your 'digest' of Module 2…
To sum up:
It's all about PROVING to people through communicating with them in such a way that they understand what it is a PT REALLY does (…not what they've been told, or led to believe, what you do!)…
…then, show that you understand them…
(Like no one else)
…that you're able to connect and engage with them…
…that you "get them"…
…that you appreciate they may have been let down in the past by another provider who made a promise they didn't keep (and still keep their money)…
AND, most importantly of all, that we know it may take a little time for them to TRUST themselves – and us – to make a decision about giving us their $700 or however much their contribution is.
Once you've created the SYSTEMS to educate and prove value it becomes very easy to raise your rates and get more patients on board.
Next week we'll cover how to get noticed – how you get the attention of your ideal patient both ONLINE – using things like Facebook and Google – and OFFLINE – using things like newspaper ads or postcards.
Stay tuned for next week's highlights from module 3 😉
===
If you'd like to get notified of when this class next becomes available – please click here and we'll be sure to add you to the early priority list, next time.
OR If you're brand new to my PT Business Education Material:
Click here to subscribe to my email list and I'll send you more Physical Therapy Business Education >>>