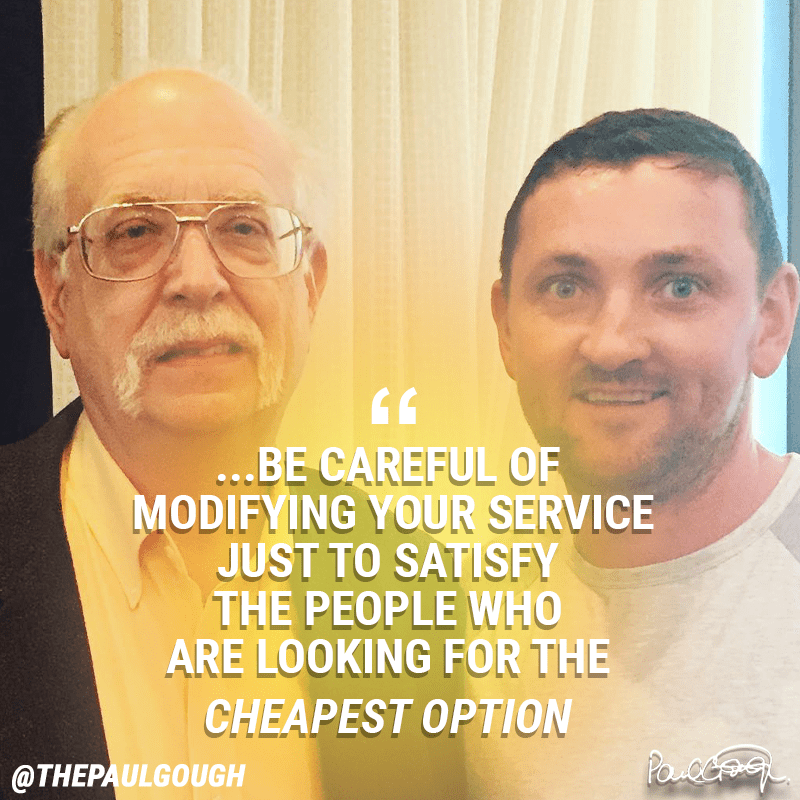 So I just wrapped up a great couple of days working with my own business coach – Dan Kennedy (of GKIC)…
I am part of his top-tier coaching program and over the last two days I've been in a room with 11 other business owners from all over the world.
As I sit here in the bar (of the Crowne Plaza Hotel, South-Independence, Cleveland, Ohio) and write this note to you I thought it would be nice to share with you my "take-aways" from this event.
Here goes:
The two days has been incredible – I come to this event looking for the one thing that will add significant revenue to both of my businesses – and I found it on day-one.
One of the big things that I think I could share with you from working with Dan is this:
"…be careful of modifying your service just to satisfy the people who are looking for the cheapest option…
 …instead, ask yourself, how will that affect your service and what you are able to deliver to your highest value clients?"
Look at that question again…
It is very powerful…
It basically sums up what so many Physical Therapists are doing right now which is "pandering" to the "low-price" crowd, or accepting a pittance from the insurance company-dorks who want to pay you the least amount possible (so they can make the most possible)…
…that makes it impossible to run a business (in the way that the people who value a better service – would be happy to pay more for).
I attend business masterminds all over the world – always have – always will – because it gives me so much clarity, power and knowledge as to how to run my businesses more profitably.
I get to learn from so many business owners, from different industries and different parts of the world so that my "world view" on business (and how it operates) is shaped by FACT – not story.
It gives me a distinct advantage over my competition who are most often running on "gut" or "emotion" when it comes to things like "prices" or thinking that they have to accept crap from insurance companies.
Here's my ultimate take-away lesson for you: 
No matter where I go (or who I am in a room with), after all is said and done, almost all business owners are STOPPED by these three things:
===
1. Most business owners are too cheap – they SERIOUSLY lack the ability to price and sell their services at the price point they should be
2. Most business owners DO NO BELIEVE IN THEMSELVES – they are isolated, lack skills and confidence needed to make big, bold decisions (like raise rates) and as a result, eat crap for most of the entirety of their business life
3. The only REAL differentiation between you and your competition is YOU and YOUR story – and yet most are too afraid to tell it.
Instead, business owners in our profession find it easier to hide behind the "safe-haven" of credentials and experience (even though every one else has both) and often just because they are afraid of what their "peers" will say.
(Those same peers who are likely to be struggling MORE…)
My point here is this…
Everyone who ever started a business is living with one, of if not ALL of those three things…
If your business is struggling right now it is not because you are not "skilled enough" or "good enough" at what you do clinically…
It is 100% because you are isolated from what IS WORKING now, what is working for others like you – and what has worked for others like you for years…
Whatever town you are in, whatever business model you are in, if you can not charge the right price, you do not believe in yourself (that success is possible) and you do not know how to use your marketing to tell your unique story – then you will always struggle…
One of the reasons I recreated our new "Cash Club" community was to solve all of these three problems for you…
– Cash Club: Get $10,000 worth of Marketing Ideas Delivered Too Your Clinic Every 30 Days 
If you are not charging what you know you should be…
…if you are not as confident about making business decisions as you know you could be…
…and if you are stuck for marketing ideas and how to tell your story to the people who will value you (at the price you set), then the "Cash Is King" publication and coaching CD is perfect for you.
The next edition is soon to go to the printers – and if you want to join my "Cash Club" so we can help you solve all of these problems, then take up the $1 free trial and watch what being part of my amazing community of the worlds best PT's will do for you…
– Cash Club: Get $10,000 worth of Marketing Ideas Delivered Too Your Clinic Every 30 Days 
Sincerely,
Paul Gough
MORE RESOURCES ON THIS TOPIC:
Click here to watch The Paul Gough Physio Rooms Show EP:045 – Re-setting Patient Expectations In The First Session
Click here to listen to Episode 34 of the Physical Therapy Business School Podcast – What's Going Wrong? (6 Causes of a Poor Performing Physical Therapy Business)
When you listen to the podcast, be sure to subscribe on iTunes so you can listen in on the go, when you don't have wi-fi, or don't want to eat up your data,
===
For more PT Business Education Material:
Click here to subscribe to my email list and I'll send you more Physical Therapy Business Education >>>