On this Physical Therapy Profit Academy Tutorial we're going to show you strategies to get more visitors – and potential new, high paying clients, to your website.
It's amazing just how "neglectful" of their website many business owners are.
Most won't or don't want to accept it, BUT, your website IS your business.
With over three billion internet users worldwide (and with that number of users growing by as much as 10% each year)… if you don't have a good website that compels people to become paying patients, and multiple streams of getting prospects to land on your website…
…Then you're missing out on a great opportunity to generate more revenue and profit for your PT clinic.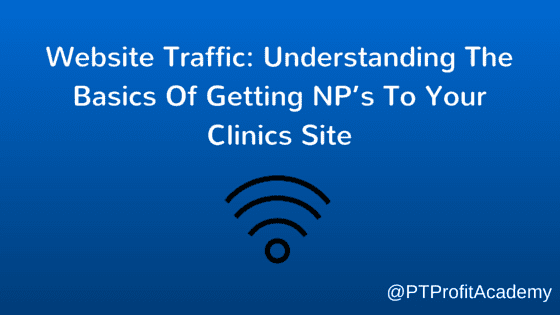 Why is this?
Basically everything online is changing and just like the iPhone, the internet is rapidly evolving too.
Your clinic's website now, is the profit center to your business.
Once upon a time a website was just a sideline. It was something as a business owner you quickly set-up without much thought because people said you needed one.
And you probably had a lot of people tell you that if your practice has a website that looks nice, is dressed with lots of fancy buttons and pretty pictures, then people would be calling your clinic and simply come to you!
Well unfortunately, that's not the case.
Essentially your website, and the online presence that you have, is the defining presence of your business. Having an online presence where people can effortlessly find you – is now critical to flooding your clinic with new patients and being the go-to PT in your small town.
How can YOU be the first PT clinic someone finds when searching online?
Let me begin by asking you a question:
Right now, how many ways do use to get people to visit your website?
One? or maybe there's two?
For most people there's only one way that they're currently using to attract new patients to their site, and sadly for the majority, it's usually 'by chance' that people arrive there.
But the thing is there are MANY things that you can be doing to increase your chances of being found online to attract HOT prospects.
I've found NINE ways to bring a constant stream of heavy traffic to your website – and even though this took me a while to figure out, once I put these nine things into place, I never have to grow tired again of battling physicians, and getting 'beat up" by insurance companies to siphon new patients.
Just imagine if you could get rid of that headache too?
Well the good news is you can, and here's one of the nine tactics that works:
This marketing tool is a money magnet.
We can use an advert to get people to call our clinic AND send to people to our website.
As well as placing our clinic's phone number on the ad, our website will be there too, which means before they call, people will visit our website to check our clinic out.
It's known human behaviour – 8 out of 10 people will go onto your website purely out of curiosity.
Just like if you were booking a hotel online – you'd go to their website first, and if they make a good first impression, you're sold!
Well your website is the same…
You might think that the decision to buy services from you is being made on the advert and the telephone call, but their decision to buy is influenced in a HUGE way by what they see on your website.
People will read all about you, your staff, your clinic's history, your Marketing message… and that will influence whether they pick up the phone or not.
Everything you can do to get people back on your website is going to help boost your profits and sales in the long run – especially if you have a site equipped with an amazing marketing message.
And I can show you how to do that here: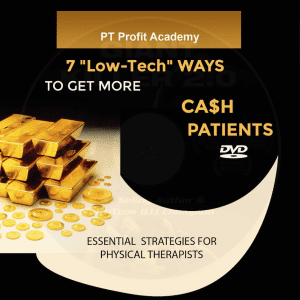 It's a marketing course I created to show you simple ways that you can summon a flood of patients as soon as tomorrow with your online presence.
I've spent years mastering these strategies, and thanks to mastering them I was able to build a cash-only PT practice worth over 1.7 million dollars AND in a country that offers completely FREE services to what I do.
If you ever struggle with not being able to book people in for treatment sessions, or if you have issues with patients who don't show up for their recommended number of visits…then you can put a stop to that by transforming your website into your very own salesman…
You'll have instant access to the exact tools I use to multiply your income straight away.