It's day 22/48 of the Tour.
I'm in Terminal 4, Gate B25, of Phoenix Sky-Harbour Airport – and I'm waiting to board my flight back to San Diego.
(Fish Taco's for Dinner when I land 😉
In between new-house (…"Encinitas") AND office hunting (…Downtown San Diego) on Saturday (…thanks to the help of top Chiropractor, "Ben Ramos"), I spent the weekend flying between Las Vegas and Phoenix…
I love life on the move…
Of course, it gets a little hectic – trying to run two businesses from the air (and an Uber) really stresses/tests how robust your businesses are…
But so far, so good.
Here's a great picture of some TOP LAS VEGAS PTS that was taken in Summerlin, Las Vegas, on Friday night at the Nevada Meet-Up: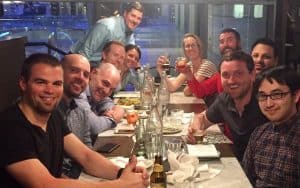 (Starring: Jeff Moore, Jerry Durham, RJ Williams, Matthew Villages, Arturo Hernandez, Eric Christiensen, and many more amazing PTs..)
So the best of the conversations I've had this weekend??
Let me think…
Aaah yes, how about this one:
"The vulnerability that comes with
starting anything new – or worthwhile…".
A lot of PTs are telling me that they feel overwhelmed right now at the prospect of having to change their business/marketing model…
Well, I know how that feels.
In my own life right now, I feel like I am almost starting again…
I am "walking away" from a successful 7-Figure business, a beautiful home, an office that I own and call my own, staff that I am familiar with – and a life that is, on paper, everything and more I ever dreamed of having…
These days?
I'm looking for a new office – likely to be shared with people I don't know in a place far, far away…
I am up-rooting my family "6,000" miles across the pond – from living in a gorgeous home we call our own, to most likely renting a home, half the size!
I've got NO staff that I know, like or trust – so I am going to have to go back to hiring slow (maybe firing fast) methodology at the same time as learning Californian employment – and tax law…
I'm so far out of my comfort zone right now that if I didn't have a very clear reason WHY I am doing what I am doing in starting a new business here in the USA, I think I might turn back.
So how do I continue to push forth??
I always go back to my "why".
So what is my "why" for the disruption?
It's to give my family the BEST POSSIBLE SHOT at an incredible lifestyle that would mean my kids spending more time outdoors (than indoors) – and me learning just how "good" I really am at this game of business…
I've done it in the one country – but can I do it on a global scale?…
(I'll let you know, lol)
So whenever I get scared or a little confused about what I am doing this for – I just go back to the why.
If I can learn something about myself in the next 5 years – and if my kids and Natalie get to enjoy new experiences – and immerse themselves in a new culture that they'll not get anything like or close to back home, then it'll be worth it…
For you?
Maybe that's part of what you gotta' do, as well?..
Many of the people who follow my work tell me when we get face-to-face that they just KNOW that they need to do something – they just don't know HOW or WHAT?
Yet when you have the WHY taken care of – the HOW becomes less challenging and the WHAT becomes obvious.
Cheers,
Paul Gough
P.S Do you need a completely new Marketing Plan for your clinic to get more Cash Pay Patients into it??
– 3-Day Marketing Workshop: More Patients, More Profits 2017 >
If you have started the year NOT as well as you had hoped – and things remain much the same as they were in 2016 – then lets get that changed for you…
My 3-Day Marketing Workshop will do that – and it is already beginning to fill up…
At this Marketing Event you'll get the chance to work with me for 3 days – and I'll personally create for you a 12 month Marketing Plan to help you avoid the cost of losing out on patients that should be coming to see you.
What's ironic is that some PTs will turn their noses up at investing in a Marketing Training like this because it's "too expensive" – yet that same person is happy to look at their empty schedule week after week, failing to do the math and realize that these things cost a lot LESS than a schedule constantly half empty.
(Know what I mean??)…
Anyhow…
The last Event that we did completely sold-out – and this one will do the same.
(How your 3-Day Learning Experience with me will look).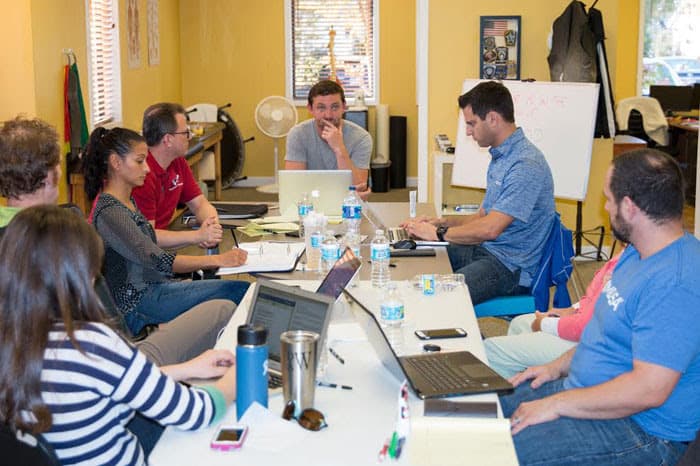 – 3-Day Marketing Workshop: More Patients, More Profits 2017 >
If you want to work with me so that I can get to know yo personally – and help you to create a solid Marketing Plan to attract 10,000 + cash paying patients, go here for the details:
– 3-Day Marketing Workshop: More Patients, More Profits 2017 >
Seats allocated by application only.
MORE RESOURCES ON THIS TOPIC:
Click here to find out more about the "More Patients, More Profits 2017" 3 Day Marketing Workshop – and when I'll be in a city near you!…
Click here to watch The Paul Gough Physio Rooms Show EP:021 Helping Patients Overcome The Resistance To Booking PT >
Click here to listen to Audio Experience EP:02: Creating A Marketing Plan For The Crossfit Open >
And when you listen to the podcast and show, be sure to subscribe to the podcast on iTunes and the show on Youtube, to be notified of the latest episodes.
===
For more PT Business Education Material:
Click here to subscribe to my email list and I'll send you more Physical Therapy Business Education >>>