Week 5 of "PT Business Growth School" is here…
…and this week it's all about 'Marketing Automation'.
Every PT Business needs to focus on 'Marketing' to grow successfully, but this is MORE than *just* Marketing.
It's the NEW way of growing a successful PT Practice.
A lot of business owners think that Marketing is as simple as putting their pretty logo out there, giving out their phone number in a newspaper ad, and sitting by the telephone waiting for it to ring.
It isn't.
Marketing Automation means you spend less time chasing dead end relationships with doctors, and more time picking up new patients without you, or anyone else in your office having to be there to do it.
Sound like something you'd love to do?
I'm about to share with you the 10 biggest takeaways from week 5 of 'PT Business Growth School' that I shared with my students – which are quite simply some of the newest and most bad-ass ways to acquire new patients, on autopilot.
You're going to want a pen and paper at the ready for this…
Key Takeaways
#1 Marketing Automation – What Is It All About?
…It's all about collecting leads.
But not in the way that those out of date, 19th Century Educated "Marketing Guru's" are teaching you.
You know how they teach it… just put out a "one time" ad with your number on it and a logo with a big announcement that you're a great PT and telling people 'I'm here, I'm good, give me a call'.
It just won't happen.
People's attention is now harder to catch.
It's spread out everywhere – some people will be on Facebook, some on Instagram, some will pick up the weekly newspaper, some will be scrolling through Google all day…
But because we know they are there – we can find them and we need to take advantage of all these different sources, so we can streamline new inquires to our clinic.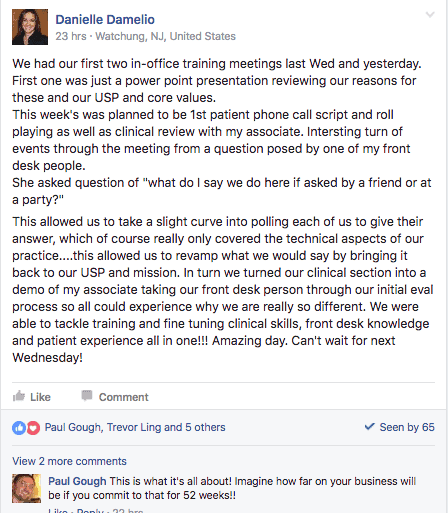 And I'm about to reveal one of the best places to capture attention right now…
#2 The No.1 Place To Find Your Prospects
Facebook.
Paid Facebook advertising is the "New Patient Gold Rush" – perfect for LEAD GENERATION.
But here's the thing, a lot of people try to sell something from Facebook, like a free visit.
Stop.
Success on Facebook is all about targeting your 'perfect patient' and giving them free information, in exchange for their contact details.
We're in the industry of helping people to make better decisions, and this is one powerful way of doing it.
#3 Re-activate Past Patients And ASK For Referrals
This one is gold.
You're much more likely to get inquires AND referrals from past patients if you give them the "tools" to make it easier.
How we do it at the "Paul Gough Physio Rooms"? With monthly give aways of our 'free reports'.
We get our past patients to pass them on to any of their friends and family who may be suffering with something like 'back pain' right now to help make their life easier (because everyone knows someone whose got a bad back, an ache or pain!)…
This does two things:
1. Gets your raving fans to spread the word about you by giving away helpful information.
2. And captures new leads so automated systems (like email) can do the magic for you.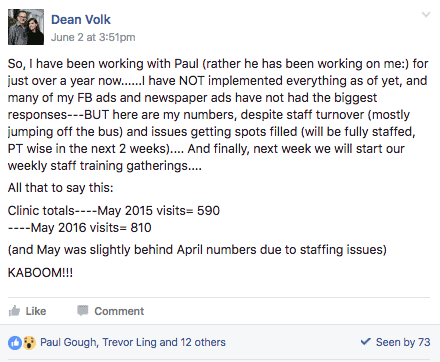 #4 How To Get 24/7 Inquires Using This One Thing…
Webforms!
Most PT websites limit their chances of success by as much as 66% by ONLY displaying their telephone number on their website.
Big mistake.
Just think about how many people NOW search for solutions to their problems using the internet…
And if they're scrolling through their phone late at night and land on your website, the only thing they can do is call you back tomorrow – which they're likely to forget to do.
Having a webform where they can input their information, at any time, from anywhere, lets them inquire even if you're not there!
You can take a look at my own clinics webform by clicking here.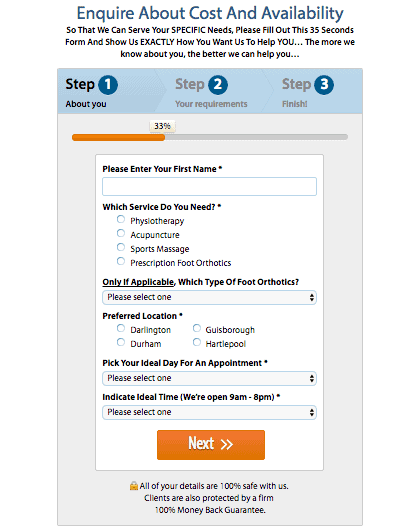 This is easily the most important and most profitable part of my website. Some days we even get more inquires than phone calls…
#5 Live Chat
This is the number one automated engagement tool.
Whenever a new visitor comes to your site – 'PING!' up pops a live chat box which begins the process of asking engaging questions.
So, if someone's apprehensive about calling your clinic, or even if they're busy at work which means they can't call right now – this snags their attention and encourages them to inquire.
On average we get about 5-6 brand new patients a week from this automated tool, just imagine how many visitors you could be loosing out on by not having this in place.
#6 How To Get A Rhythmical Flow Of Leads, 24-7
There's likely to be a lot of people who stumble across your website, and yet less than 1% take action.
Scary huh?
But here's how you can change that – by giving away free information reports on your website.
A lot of people are looking for information FIRST before they decide to book.
Give them the option to download a free information report from your website, and you'll have a constant flow of new leads arriving into your business.
Here's how they look: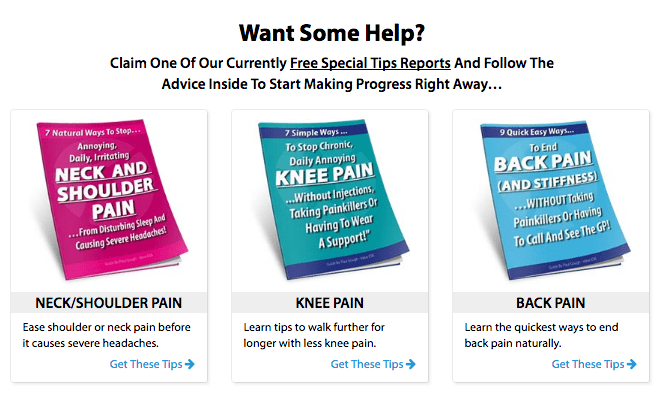 How you get them on your website? I'll show you next…
#7 The FASTEST Way To Get More Traffic To Your Website
Done right, there's no quicker, or effortless way of getting hot prospects to your website than Google Ad Words.
Not sure what Google ad words is?
Here's an image of how my Google Ads look: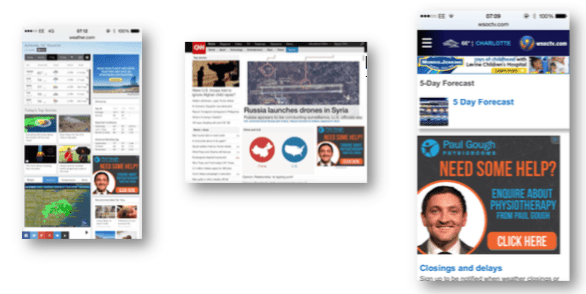 With Google you're paying for your website to be in front of the eyes of people actively searching for 'physical therapy' or 'back pain' advice.
And the reason why you need to do this, is because you can even capture those people who are living right by your clinic!
Genius.
Now it's clear to see why having a website designed for response is essential for your business.
Next, what about those people who DID visit your website, but never took action?…
#8 Introducing – Remarketing
In a nutshell, this is when people who visit your website are tracked and then followed around by an advert from your clinic.
This is what sets you apart from your competition and keeps you ahead, because Remarketing creates that 'top of mind awareness' that allows you to have a greater influence over people's decisions, every time.
Not everyone is going to take action the first time they land on your website – remarketing stops you from loosing them forever, and keeps you in front of them everywhere they go on the internet, forever.
Which leads me on to this…
#9 The Importance Of Blogging
The one thing I look for when I check out any PT clinic's website is this – their blog.
And 9 times out of 10, they don't have one.
If you don't have one either, here's why it's time to get one up and running – your blog should be the prize asset of your website.
Not only does it help your website be positioned higher up on Google than your competitors, it also allows you to be found and be placed in front of prospective patients 24/7.
Update your blog WEEKLY with educational content for people looking for help with 'back pain', 'neck pain', whatever it may be, and you'll be the one known for providing value.
The best use of your blog is found in other forms of Marketing Automation, here's one of them…
#10 Social Media
A lot of PT's think Social Media is a waste of time – and I USED to agree – but it's NOW one of the most profitable ways to automate your entire online marketing process.
Using tools like "Sprout Social" allows you to send your blogs out to people on social media for weeks, months and even years after you've written them.
Meaning when your articles get 'shared' and seen, people will click, land on your website, and THEN they'll have the opportunity to download free information reports, or inquire via a webform you have set up!
And if they leave without taking action?
Your remarketing ads will be put into play – meaning you'll be in front of them everywhere they go.
The whole Social Media game is all about how you can get more people to land on YOUR website, to start building an audience of people who are interested in what you do.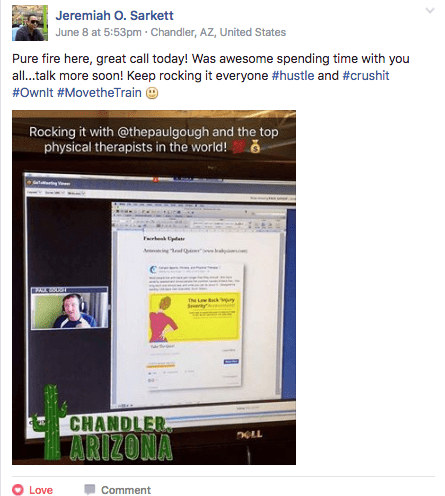 That's it for week 5 of growth school!
Now you're armed with 10 of the most powerful ways to grow your clinic on autopilot.
To sum it up – this is my most favorite part of Business Growth School…
Marketing Automation is the new way of growing a successful PT Practice in the 21st century.
You can wave "Good-bye" prospecting to local doctors, and say "hello" requests for appointments waiting for you before you pull into the car park of your clinic.
Next week PT industry Super star "Jerry Durham" is back, where we'll be expanding on how to 'automate the new patient journey experience'.
For most PT businesses, the problems they have with things like "drop-offs", "no-shows" and "resistance to care plans" is NOT happening because people don't want to pay for PT…
No, it's simply because they don't see the true value in it!
On week 6 we're going to solve all of those problems, and make things like "co-pay" or "OON" issues a thing of the past.
See you right here next week, for Module 6.
===
If you'd like to get notified of when this class next becomes available – please click here and we'll be sure to add you to the early priority list, next time.
OR, if you're brand new to my PT Business Education Material:
Click here to subscribe to my email list and I'll send you more Physical Therapy Business Education >>>
===