So I'm back at my office in Orlando today…
…just returned from a 10 day trip back to the UK to check in on my clinic AND, host a mastermind meeting attended by the UK and Europe's top Clinic owners.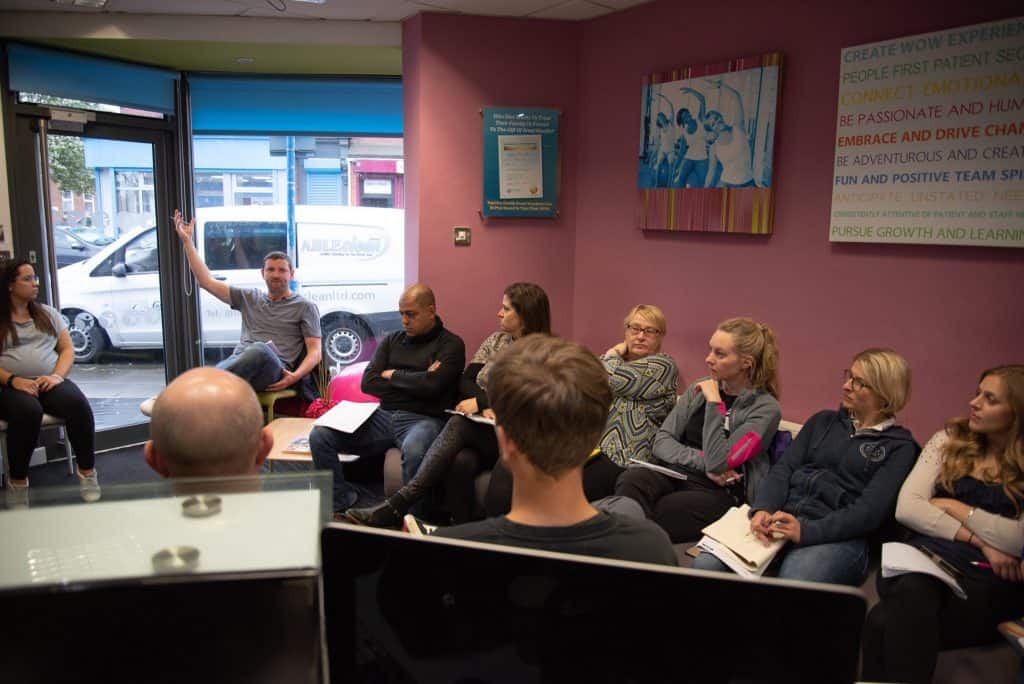 So what can I share with you today to help you?
How about this…
Just this morning one of my team members had a conversation with a clinic owner from Mississippi…
The general frustration that this clinic owner had when he spoke to us was that he didn't want to be just another "average Physical Therapist".
The question he asked was this:
"What do I need to do to avoid
being yet another 'average' Physical Therapist?"
The answer is not what you think…
See, every Physical Therapy clinic owner thinks that the secret to being an above average clinic owner is to GET MORE SKILLS.
And, yet, no matter how many dry needling or massage qualifications a clinic owner gets, their profits are still "average".
So what is the secret?
It's actually in the way you are positioned.
If you are positioned like all of the other Physical Therapists, you'll be looked at as similar if not the same as most of them.
By definition, you will be another "average Physical Therapist".
Positioning is the result of the Marketing that you do (or don't do).
Positioning allows you to become a LEADER of a specific field such as sports injuries, back pain or instantly thought as someone who helps people with balance and falls issue.
Positioning allows people to look at you (before they even meet you) and conclude for themselves that you are the obvious EXPERT in the field that they have their problem.
Most clinic owners NEVER grasp this.
If they do any marketing whatsoever it is usually one "average" ad after another, talking about their experience, their credentials, their friendly service or their private treatment rooms.
Yet, no matter many times they run the ad, the response rarely changes, and if they do get a call it's usually from people who don't see their value.
Lesson?
You can not build a profitable business if your POSITIONING isn't right.
Want some help to improve your positioning in your community?
If so, go here to book a call with one of my team:
We'll get on the phone with you and help you create a Marketing Plan with a specific MESSAGE that positions you as an EXPERT in your community so that more people will want to hire you.
The difference between spending your whole career being OVERLOOKED or charging rock bottom prices just to get a couple of patients on schedule…
…and having the phone ringing off the hook with people happy to pay fees that make being in business worthwhile is ALWAYS how well you MARKET what you can do for people.
Get on a call with us and we'll help you start the process of doing that:
Sincerely,
Paul Gough
P.S About you working with us at our upcoming Events:
If you're interested in working on your marketing with us IN-PERSON, the next opportunity for you to do that is June 29-30 in Nashville at the Rapid Action Marketing Implementation Bootcamp.
We'll help you implement 10 Marketing Campaigns in just 48 hours.
Last time we ran this course we had clinic owners who were stepping out of the room at the event to book patients from the campaigns we had helped them implement earlier that day.
Reach out to my team at paul@paulgough.com now if you want to know more or book a call and we'll tell you how it works.
More Resources by Paul Gough:
Paul Gough's Cash Club Community: join the Cash Club coaching program: www.ptprofitacademy.com/cash-club
Check out Paul's No.1 Best Selling PT Business Books:
Marketing Book For Physical Therapists – "New Patient Accelerator Method":
www.paulsmarketingbook.com
Hiring Book for Physical Therapists – "The Physical Therapy Hiring Solution":
www.paulshiringbook.com
Want to hire Paul to speak at your next Marketing or Business event? Or, talk to the students at your PT School? Get in touch here: www.paulgough.com/hire-me/