On this Physical Therapy Profit Academy Master Class, we're going to show you how to advertise and fill up your educational in-house workshop events by using the 9 step sequence – proven to be able to make your workshops incredibly successful and go off with a bang!
But before I fill you in on the 9 steps, lets take a quick look at Workshop events, and how to really use them to grow and scale your business…
The one thing I want you to understand is that workshops are another form of 'Education Based Marketing' where you build trust with potential patients – with the end goal being to get as many people as possible to book a physical therapy session at the end.
But here's the thing, what I believe to be a problem for many PT clinic owners is that they use workshops as their MAIN, (or ONLY), source of acquiring new patients.
Which will only end up hurting you in the end, because a workshop isn't a 'strategy'…
…it's a 'tactic' WITHIN a strategy.
What That Means?
Workshops are a tactic within your lead generation strategy – they're simply something within your business that helps you to attract more of the perfect patients you WANT to work with, and keep them for life – not just for 8 or 10 treatment sessions.
So when you take a look at the 9 step sequence I'm about to show you, I want you to keep in mind that Workshops shouldn't BE your business, but to see them as a powerful part of your Marketing game-plan where as Physical Therapists we – 'give before we get'.
They're no different than running a newspaper advert giving away a Free Report on 'back pain tips', or a free 'taster session'…
The goal of a workshop is NOT to over educate people, or to prove how clever you are.
The goal is to simply allow people to build trust and familiarity, to help them get to know YOU better, to see the VALUE you can provide them, to discover more about what's really going on with their low-back, and to make them feel comfortable enough with YOU that they'll want to come back and see YOU for PT!
Simply put – you're on trial!
People know that you're an option, but they just don't know enough about you yet to invest their time and money into buying your services.
So if you're looking to add live, in-house workshops to drive more patients to your clinic, how can you do it in a way that provides amazing experiences from the minute they hear about your event – so they turn into a patient for life?
The 9 Step Sequence
Step #1: Create Awareness Filling The Room
How do you make sure you fill up the room?
With advertising!
But not JUST with one form of advertising – but with at least 2 or 3 different media to promote your workshop!
This way you can be sure that you're setting yourself up for success by creating omni-presence, and people are more likely going to hear all about your event if it's in multiple places, rather than JUST reading about it in a leaflet.
Some examples?
A newspaper ad, emails to past patients and using social media.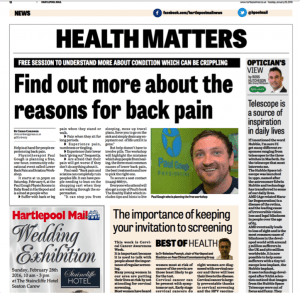 Step #2: The First Phone Call – Frame Them For Physical Therapy
This step is vital and one of the most overlooked – it's not just about getting someone booked into your workshop when they call you up, then putting the phone down.
If it's done right, you can get people WANTING to book PT with you, before your workshop has even started!
It's a chance for you to start building a relationship with them, and an opportunity to ask questions that shows them you CARE…
Making it more likely that they'll say 'yes' to your services at the end.
Step #3: Build A Bridge
Make them feel special.
This is a strategy we use once someone has booked into a workshop – that confirms that we listen, understand and really care about what their concerns are.
If you do this, you'll already be winning and I can guarantee no other clinic will be doing anything like this in your town.
How do yo do this?
You can simply send them a letter with a handwritten thank you note – they won't expect you to send something like this, but they will LOVE it when you do.
Step #4: Create Anticipation For The Event In The Build Up
Here's where you get attendees EXCITED for what's to come.
Most clinics think that a call to secure their seat is good enough…
The reality is there's still a lot to be done, and you've got to show up like no other clinic in your town does.
So if everyone else is sending out handouts with information about 'back pain' before the event, what could you do to stand out?
(Hint – you could send them a gift to their home…)
Step #5: Get Them To Show Up!
Here's how you ensure you get a 100% show up rate, because there's nothing worse than no one showing up after all of your efforts!
It's not just about "Hey, we'll see you in a week!"… it's about sending reminders within that week to make sure they show up.
Send them things like postcards, emails and phone calls leading up to your workshop to get them ready for the event, and to get them into a frame of mind to take part in something more than just a workshop event.
Step #6: Create "WOW" Factor Experiences
This is our number 1 company value at the Paul Gough Physio Rooms – don't let attendees judge you ONLY on your presentation.
It's now almost impossible to grow and scale your business without giving people who visit you an amazing experience.
Nobody really wants to be at a workshop, it's still a grudge use of their time.
Think of ways you can really brighten their day – show them what you're really like so you're a company they want, and can't wait to do business with!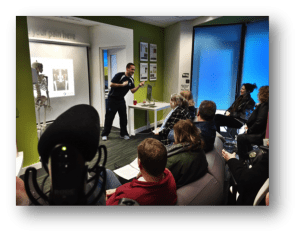 Step #7: The Interactive Presentation
Here's where you don't just educate, but you make your presentation interactive, fun and all about them!
Example – get people to introduce themselves by telling everyone their name and their story.
That way within the first 10 minutes they know you really care about them, and they feel special!
Step #8: Follow Up
The fortune is in the follow up and is a big area of opportunity whether they say yes, OR no to physical therapy at the end.
Because even if they say no, wouldn't it be great if you could nurture them until they're ready to say yes?
At least 2 or 3 people will convert into paying patients if you keep in touch with them – why would you skip this step and risk them going elsewhere?
Step #9: Track And Dashboard Everything
How are you going to keep track of everyone who is attending?
How are you going to remember what concerns them most? What drink they want when they arrive? The outcome of the workshop – did they say yes? Or are they just not ready yet?
We have a system in place where we log everything on Infusionsoft so we can never lose touch with attendees and make it a WOW experience that they're happy they gave up time to come to.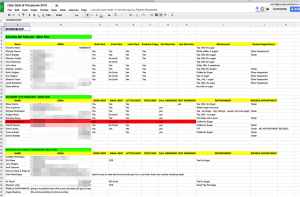 To round it up when it comes to Workshops, the PT clinic across the street might have a "better" presentation than you… but if you follow these 9 steps your win EVERY TIME because of the level of care and service you give BEFORE people give you their money!
For more Marketing ideas like this, go here next:
Click Here to Subscribe to Paul's Marketing Tips Email List >>>