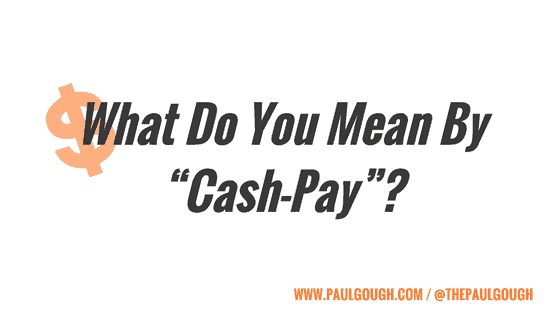 Came a question earlier this week from Canada:
===
"Paul, What do you mean by "cash-pay"?
– Marco Chiasson, Physio Max, New Brunswick (Canada).
===
My Answer:
Any time someone has to put their hand into their pocket…
…or reach for a purse or wallet…
…to whip out a crisp bill/credit/debit or visa card to fund in some way shape or form a contribution to, or pay in full for, a Physical Therapy appointment – then that is CASH PAY.
Lets clear this up:
If they are making ANY form of contribution to the service you provide, out of their own pocket, then that's cash pay.
(As the PATIENT sees it).
And that's where the problems are arising…
It's a lot more difficult to run a PT Business when one person ENJOYS the treatment – and someone foots the bill.
(AKA, the traditional insurance model that MOST clinics WERE built upon).
But those days are all but over.
Almost every single patient walking into a clinic today is needing to pay SOMETHING towards the service.
All of a sudden, it feels a little different for the patient…
Especially if they've assumed, or falsely believed, that they'll be able to have it ALL covered by insurance.
(We take for granted that they actually read their policy before singing it…)
So when you tell me I need to pay my "$50 co-pay" – I'm going to be paying that in cash, and usually with some form of resentment to doing it.
If you tell me you are "out-of-network" and I need to pay the $150 in full – then I've paid you with cash.
I just have to HOPE that I fill out the forms correctly to get my money back!
The significance of "cash"?:
There's a pain associated with handing over cash.
It's why shops switched to credit cards…
Then it's why shops switched to "contactless"…
(The less pain that's involved in paying for something, the better – they don't even want you hearing the beeps of your PIN anymore).
The really bad news for Physical Therapists – is that we are primarily a "grudge purchase"…
They like us – but they don't really want to be there with us.
And secondly, we don't give them a "box of stuff" when they check out…
We give them a lot of "education" – we talk to them about funny things called "nerves" and "ligaments" – but they don't always know how that equates to value.
So the moral of todays story?
If any single one of your patients is having to contribute in cash to fund your service – you are in the cash-pay game.
And that, my business building friend, and for all the reasons described above, requires a completely different game plan…
What type of game plan?
A "Marketing Game Plan" of course.
How you let them perceive what you'll do for them BEFORE they show up determines how they show up.
If they think you're "just another PT"… they'll treat you like "just another PT".
If they think you understand them better than anyone else – they'll treat you better than anyone else.
It's simple – but very powerful stuff.
And guess what?
I'm spending 3 days showing you how to be more successful in the "pay-me-with-cash" era that we're all in…
It's a 3-day Workshop happening in San Antonio (February 17-19th ) and it's dedicated to showing you how to create a Marketing Plan so that you're able to attract and schedule more patients whatever the size of their contribution to your fees.
Apply here:
– Click here to apply for the More Patients, More Profits 2017 Workshop.
Be quick – just 10 seats available (and "6" have already gone).
– Click here to apply for the More Patients, More Profits 2017 Workshop.
Sincerely,
Paul Gough
P.S Here's how your 3-Day Learning experience will look: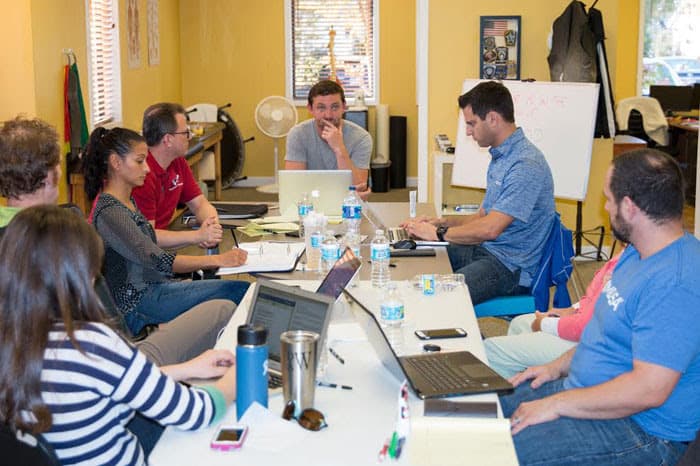 ===
MORE RESOURCES ON THIS TOPIC:
Click here to listen to – podcast EP:008 Cash PT Special: Helping People Make Better Decisions About Their Health!
And Click here to watch Youtube Show EP:009 Why Patients Value A Hairdresser More Than PT
Subscribe to the podcast on iTunes and the show on Youtube
===
For more PT Business Education Material:
Click here to subscribe to my email list and I'll send you more Physical Therapy Business Education >>>