On this Physical Therapy Academy Tutorial we show you exactly why it's critical to tackle the most common patient objection of paying the '$40 COPAY', to stop it from losing YOU thousands of dollars.
You've probably heard this objection countless times before…
When you tell new potential patients how much copay Physical Therapy is going to cost them, they'll come out with objections like this…
"It just costs too much money."
OR the exact words I heard a lady say the other week when I visited one of my clients, Dean from Volk PT…
"I don't think I'm going to be able to afford that every time I come in to see you."
And even though your prospects say these things, the truth is that the cost of copay ISN'T the actual issue…
And because most PT's think it is – they're losing out on making big money without even realising it!
Seriously, failing to handle a 'price objection' is costing you thousands of dollars.
More often than not price ISN'T a legitimate concern – the customer may simply be price resisting, and NOT price objecting.
People ARE actually happy to spend their money when they see there's more VALUE in using your Physical Therapy services.
And as soon as you understand this and challenge it, you won't lose a patient to a price objection ever again.
Here's an example of exactly what happened when I visited my coaching client Dean's clinic last week…
(What I showed Dean made him $500 richer in an instant)
Overcoming The "It Costs Too Much" Objection
A lady walked in enquiring about PT…
She was told that she had to pay a $40 copay each time she visited.
Straight away I could see this lady wasn't happy, and if the price objection wasn't tackled right then and there, she would have walked out of the clinic for good – meaning hundreds of dollars lost, just like that.
So I pulled Dean's Therapist Mary aside, and gave her the exact words to say…
The lady that had just walked in thought that she was being hard done by having to pay $40 on each visit…
So how did we change this lady's mind so that she would convert into a new patient right away?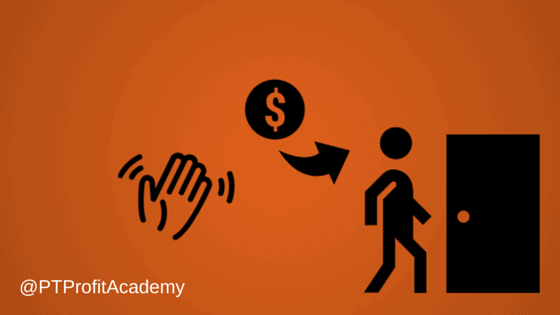 We re-framed everything.
Mary acknowledged that the $40 copay was an issue for this client – building empathy and creating a relationship.
BUT even BETTER, Mary told this lady that other people who come to the clinc pay a $70 copay each time!
So immediately the initial assumption that she was getting a 'bad deal', turned around into thinking 'wow, maybe $40 isn't so bad after all!'
After Mary used the exact words I gave her, the prospect was sold on Volk PT, then and there she accepted to give Volk PT $500 in exachange for less back pain.
It's a "true-sales" technique that will overcome these types of obstacles everytime – increasing your PT clinc profits through the roof.
When you understand that the PRICE is no longer an issue – the struggle of converting new leads into patients will be a thing of the past.
If you want to be shown how to overcome these kinds of objections too, I show you here:

It's a Marketing and Sales Mastery Program that shows you how to aquire more NP's by overcoming the 16 most common objections that stop people from coming to see a Physical Therapist.
Take a look when you click this link:
NP OVERLOAD – The Short Cut To Attracting More Enquiries And More Patients For Your PT Practice! >
I'll walk you through the exact words to say that will convert your leads into paying clients, and make them say 'yes!'
Take a look:
NP OVERLOAD – The Short Cut To Attracting More Enquiries And More Patients For Your PT Practice! >
For more marketing (and sales) ideas like this join Paul's email list now and we'll send them directly to your inbox.
Click Here to Subscribe to Paul's Marketing Tips Email List >>>