"Have a seat"…
OR, how about…
"Take a seat"…
It's a "throw-a-way" phrase that is likely being said to almost every patient as they arrive in the waiting area of almost every PT clinic today.
*Except at mine*.
How do we greet our guests?
"Make yourself comfy!"
The difference?
Night and day.
One is TRANSACTIONAL…
…the other ENGAGING and CONNECTING.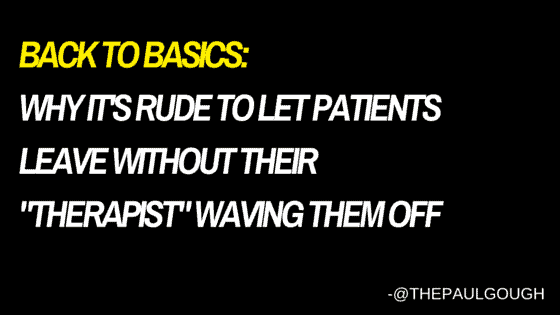 One is a lazy habit and ticks the owners box that says "we acknowledged your presence"…
…the other suggest that we've invited you to our home and welcomed you to the family.
Can you see it now?
– Click here to subscribe to my email list and I'll send you more Physical Therapy Business Education >>>
Every phrase, every word, every sentence – every look, every picture on a wall, magazine on a desk, smile on a face or tone of a voice says something about you and your (business)…
The problem for so many PT's is that because of having spent 5 years at PT School it's hard to UNLEARN that it ISN'T all about the "skill" – and we can often forget that the most simplest of basic things can give us the edge.
Take this for example:
Most PT's seem to think that it's acceptable for their patients to make their own way out of the building at the end of their session when their treatment or gym time is up without so much as "have a great day"…
They justify this "rudeness" because that's the way everyone else does.
That's fine.
But allowing your patients to leave at the end of the treatment session without the (supposedly treating) Therapist to escort them to the door is a lot like inviting a close friend into your home…
…spending 60 minutes listening to their biggest problems and then expecting them to make their own way to their door – and let them selves out.
You just wouldn't do it.
My best bet is that you'd go one step further – and not only would you see that person to the door of your home, you'd watch them get in their car – and then stand and wave them off until they're aaaaaaaallllllll the way out of sight.
Agreed?
Why then, is it acceptable in business?
The reality is, that it's NOT.
Patients tolerate these things because everyone does it…
It's the status quo of a "busy" health care office that screams "we've had cut backs, we're looking for ways to make back the time so we can make the same money"…
Here's the thing:
They might not notice when you DON'T do it…
…but it's the type of thing that they sure as hell DO REMEMBER – and never forget – if you DO choose to do it.
I've said it a BILLION times – and I'll keep on saying it…
…stunning and lasting success in business – in any business – goes to the business owner that can recreate the basic human interactions that we're all hard wired to appreciate…
…inside of their day to day business operations.
Does it get any simpler than a "wave at the door" and inviting someone to "make themselves comfy?"…
I think not.
Anyhow…
More stunningly simple business advice being given out, here:
– Click here to subscribe to my email list and I'll send you more Physical Therapy Business Education >>>
While the rest of the PT marketing crowd are telling you that it's all about "Scientific" Marketing" and "ROI" and all of that nonsense…
…what you'll get from me is a lot of very simple – and easy to apply – "tid bits" of advice that if applied faithfully (and without excuse) will make a significant and lasting difference to your success.
P.S Last weeks "Paul Gough Physio Rooms" show has been a huge hit again…
…looks like the wider PT Community across the world are LOVING the authenticity of the training material that we're putting out there from inside of my clinic for you to learn from…
===
Catch Up On Last Weeks Top Content Here :
===
This weeks show was all about STOPPING DROP-OFF's with one simple question…
…find out what that is when you watch the Show:
– The "Paul Gough Physio Rooms" Show – Episode 017 ! >
And if you've been following the progress of the "PT Business Growth School" Program…
…the highlights of the final week – Module 6 – are here for you to look at:
– The New Patient Journey Experience – Module 6 Highlights ! >
– Click here to subscribe to my email list and I'll send you more Physical Therapy Business Education >>>