On this Physical Therapy Profit Academy Tutorial we show you a new way to get more new patients coming to your Physical Therapy clinic – leveraging the great relationship you have with your past patients.
You know your Physical Therapy services are valuable, you've spent a lot of time and money building your practice and growing your skills… but it's a struggle to get new patients walking through the door without relying upon doctors for referrals.
But what if I told you that your EXISTING patients can actually do the work for you?…
What if there was a way to get your past and or existing patients to spread the word about your PT clinic, without having to do anything yourself – and most definitely without having to BEG patients to tell people about you.
Let me tell you how we're doing it at the Paul Gough Physio Rooms:
Introducing "Facebook Re-Marketing"
Alongside Email Marketing and Google, "Remarketing" on Google and Facebook is the most impactful thing that I've ever done for my own clinic the Paul Gough Physio Rooms.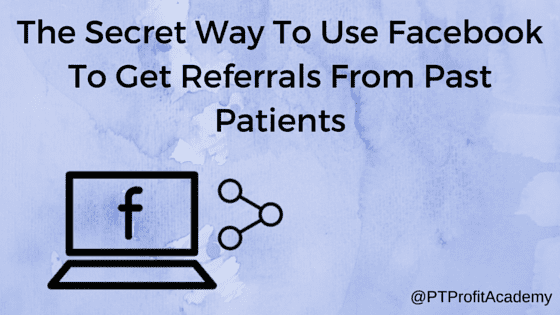 How Re-Marketing On Facebook Works?
Well, just like how you can use your website to get new patients to see your clinic adverts everywhere they go on the internet… you can use Facebook to your advantage to follow these people too.
And as well as following NEW prospects who have recently been on your site, you can re-target adverts to past AND existing patients to help build your clinic awareness – taking advantage of 'social proof'.
 How Do You Build 'Social Proof'?
It's easier than you might think… and it's all thanks to one of Facebook's little-known features that all business owners should now be making use of.
It's a "custom audience" feature that lets you create an audience of people who you ALREADY know – that you then show your adverts too.
So lets say for example you have 100 email addresses of past patients, you can upload them into Facebook, and then as soon as that patient logs in, your clinic's advert will appear right in front of them on their screen.
So now you've got your past patients seeing your Facebook advert all day and night.
And here's the best part…
Happy past patients see your advert – so they start to comment on it.
Your past patients start to build your 'social proof' because they're seeing your advert and commenting on it saying how good you are.
And lets face it – what others say about you, is 1,000 times more believable than what YOU say about you.
So in the eyes of new patients (who have just been on your website), you look and feel like an amazing company that they WANT to do business with.
They are seeing these comments from people who have already used YOU, who are talking about YOU and sharing YOUR advert – making them a hundred times more likely to book.
It's a strategy that can't fail, and the most logical step to take when using Facebook Advertising – you'll get patients coming to you because of the social proof being witnessed, and you'll get past patients re-activating too because you're always in front of them.
It's being 'top of mind' and having that 'social proof', that will have the most significant impact on your business when it comes to Marketing.
If you'd like to know how to boost your clinic's profits using simple internet and online strategies, you may wish to look here next: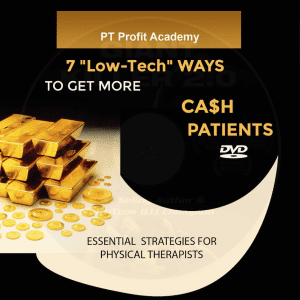 It's a program designed to show you simple ways that you can summon a FLOOD of patients to your clinic by using the internet.
Discover more when you click this link:
– 7 non-tech ways to get more cash clients >
You'll also have personal access to the most impactful tactics that I've used to increase my profits every single day.
Click the link to find out more:
– 7 non-tech ways to get more cash clients >
===
For more marketing (and sales) ideas like this join Paul's email list now and we'll send them directly to your inbox  – Click Here to Subscribe to Paul's Marketing Tips Email List >>>