The video I'm about to show you might make some PT business owners "shudder"… at the thought of realizing how much hassle they're getting off of their "uptight" staff… that they really shouldn't be!
Don't watch this video just yet: Watch the Video Here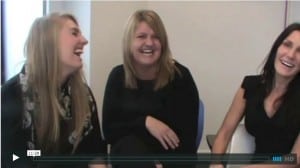 So let me introduce you to my concept of how creating a "Personality Based PT Clinic" can make you wildly more profitable than you are now.
And…
Just so you don't think that making any of this up, I wanted to talk to you today about a video I shot with three of my own office staff, not long ago.
And, it's a video which we show to ALL of our new patients – right after they book an evaluation with us.
The video – it answers 12 questions that we think them knowing, is going to make their PT experience much more enjoyable – and ensure they FEEL like they've picked the perfect clinic – for them.
Here's why this video will net you more patients & profits :
When you watch the video…
…Focus in on how you might feel if you were a patient, coming to my clinic for the first time and having NO idea what a PT does, or what it will be like when you got here.
('Coz that's how most patients feel…)
This video gets REALLY good at around about the 60 second mark when one of my office staff (Vicki) announces that she almost "took her clothes off right in front of me"! (Gasp!)
Just wait… LOL
See, Vicki was originally a patient of mine who came to see me with a shoulder problem.
But, not long after, she later took a job here and we often joke about the day that she came to see me and asked if she should "take her clothes off"!
Now, even though I said "no"… Vicki didn't hear me properly and preceded to almost take her clothes off.
Of course… not too out of the ordinary if it's a typical "client – PT" relationship…
(But, imagine how anyone might feel knowing that their boss has seen them in their underwear 😉
And this one day we thought it would be great to put this fun story onto a video to let patients see for themselves WHO we really are…
And, I can tell you it's worked like gangbusters at putting lots of our patients at ease before they arrive…
…and many tell us that they instantly KNEW they were in the right place and had made the right decision to choose us, just from seeing it.
(Tell their friends about it too…)
Take a look for yourself => Watch the Video
Now, you might be thinking "how did I get my staff to agree to do something like that"?
The answer?
Well, it's a mixture of a few things that I'll teach you.. on this new training called:

Hassle Free Staff – The Three Pillars Of Effective, Profitable And Hassle Free Office Staff —> Click here to take the course:
It's my new training designed to make your life easier and your clinic more profitable as is a step closer to achieving 😉

And you know what?…

I can honestly tell you that since I implemented these secret tactics into my clinic, my office staff are so popular now that if you pushed me to "fire" someone today, I'd be looking for the PT's first!..

And on the training I reveal how I did it:

I cover everything from changing the clothing that my office staff wear, from something formal and stuffy, to "something more appropriate" and healthy…

AND –

I even discuss why having at least one of "special items" easily available on Amazon, placed on their desk to the right of their computer screens, makes them lot happier AND much more effective because it saves time and wins us more patients.

That, and lots more proven tips to get Hassle Free Office Staff, here:

Click take to the new training ==>

Paul
Pt Profit Academy

P.S This video turned "Vicki" into a SUPERSTAR of my clinic…

We often hear new clients whisper to other members of staff as Vicki walks past:

"That's the girl of the youtube
video isn't it?"

Now, do you think that she enjoys coming to work here with me as a result of her "celebrity" status, and that I get 110% from her everyday?

You betcha'!

Learn how I did it, and lots more, click here>>>