So, you've got your ATTRACTION SYSTEM in place.
And more calls and enquires are now happening at your clinic because more people are AWARE of the *specialist* solutions that you offer.
What next?
You need a BUYER SYSTEM.
Something that MOST clinics don't have.
However well your receptionist handles an incoming fax from a physician, a phone call, or an email – this IS NOT a buyer system.
It's a REACTIVE way of processing the "ready to buy now patients" – something which there aren't a great deal of (in any industry).
So here's what needs to happen next:
Now that you've got the phone to ring more, the goal is to convert as many of those "prospective" new patients – into high paying ones, as FAST as possible.
And that's why it's important to make your BUYER SYSTEM specific too.
Because the more targeted the message in your follow up system (involving: direct mail, phone calls and emails), the SOONER the conversion to new patient takes place.
And what's more, the *higher fees* for your programs and sessions you can charge.
Now, before you go ahead and take a look at this: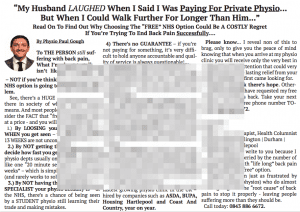 (A real FOLLOW UP POSTCARD which we send to people with back pain – and is part of my clinics BUYER SYSTEM).
Let me first explain to you what happens when people contact my clinic in response to any of my adverts (attraction system).
My receptionist will ask specific questions.
And one is:
"What concerns you MOST
about your back pain"?
Of which one of the options (we provide), is:
"Fear of not being able
to keep active or mobile".
(Perhaps the most common).
Knowing that…
We can then custom tailor all of the FOLLOW UP messages in the system so that we talk all about their problem.
If you like, we "AGITATE" it.
And we do it in emails and follow up telephone calls too.
We talk more about THAT than their back pain – because that's what creates an emotionally charged buyer – and we're easily able to match that to our "highly specific solution".
Take a look at the headline on the postcard…
"My husband laughed when I told him I was going to see a physical therapist… but when I could walk further and for longer than him".
It's VERY clever.
Because it lets the reader ASSUME (…for themselves) that physical therapy is something that can help solve their real problem – which is "loss of activity" thanks to back pain – NOT THE back pain!
Big difference. Massive difference.
All right lesson over.
Take from it what ye will…
Hopefully that your pt clinic will be a LOT more profitable with an ATTRACTION SYSTEM and a highly specific follow up and BUYER SYSTEM in place.
One that works AUTOMATICALLY, with or without you, too.
Talk to me about how you get one, by filling out this form:
45 Minute Strategy Call With Paul – Application Form >>>
Paul Gough.
===
Note to physical therapist looking for marketing ideas…
Sign up to Pauls email list and get Marketing ideas and strategies for your pt clinic sent to you by email:
Click Here to Subscribe to Paul's Marketing Tips Email List >>>