Let's talk about something that nearly all clinic owners suffer from…
That being:
"Ineffective office staff".
There's not a single business owner in the whole of the United States who doesn't wish they had MORE effective, profitable and "hassle free staff" to work with!…
So, let's be blunt about this…
And as they say on Dragons Den, isn't it time to "Stop the Insanity" with your office staff?
Virtually every PT business owner I speak to in my private coaching conversations tells me one, or all of the following:
===
1.) That they're not getting enough from their office staff to make their life easier
2.) They know they're not converting enough inquires into cash paying patients
3.) They have a feeling that their office staff are not doing the best possible job to make their business more profitable, but they're not sure what to do about it…
===
"STOP THE INSANITY"!
..and If one or more of the above applies to you, then it would be a shame for you not to get in on this new training I made for you.
"Hassle Free Staff – The 3 Pillars of Effective, Profitable and Hassle Free Office Staff". Watch it here:
And, here's a "sneak preview" of what I reveal:
…One of the shortcuts to having staff which YOU enjoy working with and who also create life long raving fans of your clinic, is in helping your office staff to understand a lot more about what a PT actually does.
(Because most staff have NO REAL idea what we even do…)
There's a "secret strategy" that I've been using (…on autopilot) in my own business which makes my staff feel
– More "important"
– More "valued"
– More "liked" by clients
PLUS it also effortlessly educates patients about what we do, too.

And wait, it gets even better:
Just from doing this one single "tactic" for 30 minutes, once per week, it automatically turned my own office staff (7 of them) into better "SALES" people too – able to convert many more enquiries into paying patients.

Meaning that when ever a prospective patient calls & asks questions, my office staff can give such a confident, descriptive and in-depth answer to concerning questions, that it leaves prospects rightly assuming:
"Well, if the girl on the phone knows
that much about my pain, just imagine
what the PT's know!"
(And so they always schedule appointments!)…
And the bonus is this:

You don't need ANY weekly meetings with all your staff in the same room, at the same time, to achieve this type of outcome.
Meaning there's NONE of the expensive down time commonly associate with staff training.
– AND –
Do it like I show you, and phones are NEVER left unanswered, because your office staff can do it one by one, simultaneously enhancing their relationships with both patients, AND PT's.
Anyhow…
That, and 17 more tips to stop the "office staff insanity" are covered on this training, HASSLE FREE STAFF, waiting for you here.
Watch the training video here: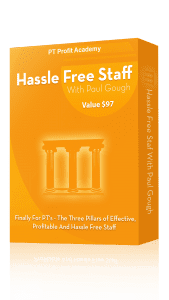 Enjoy !
Paul ;=)
P.S Most PT clinics can never get to know what it feels like to charge 30%, 40% and even 50% higher prices than anyone else in town…
And have their clients smile as they cheerfully pay over….and over…and over…
That's because they choose to remain a "commodity" where they let clients wrongly assume that all PT's are the same and do the same.
A fast way to confidently being able to charge a LOT more than any another PT is to create something which I call a:
"Personality Based PT Business".
We can make a start on creating that in your PT business, here: