The Title of this 2-Day Event is "Effective Telephone Techniques and In Clinic Sales Strategies for Fast Growing Physical Therapy Practices"
Join us April 1st and 2nd at the beautiful Westin Lake Las Vegas Resort and Spa
Across the two days we will cover:
How to get your staff comfortable with the idea of selling in a tight economy


How to transition patients to other PTs (including new grads)


How to fill up a new PT schedule – even if you are MILES ahead of them clinically


Dealing with cancels and drop-offs (…plaguing EVERY practice since C0VID)


Encouraging patients to complete a plan of care (…in less than 30 days to boost your cash flow)


Upsells and progressions to other products, programs, and plans of care – when to start the conversations and how to bring it up


How to tell current patients you are dropping their insurance or don't take it anymore…


And so much more…
Apply to be a guest now!
Watch the VIDEO below to the hear about the incredible stories of success that other clinic owners like you have had since they joined Mastermind. Everyone of them started as a GUEST at one of my Events (…it's 58 minutes long, BUT it's well worth it…)

Press Play to Watch

Before Joining I Felt Stuck, Was Working Too Hard And Felt Like It Was Impossible To Run A Business By Myself

"Joining Mastermind is the single best decision I've ever made. It was a turning point in both my life AND business.
My confidence has soared, I've raised my rates far past anything I would have thought possible, and in just the span of one year I have tripled my annual revenue, moved into my own space, hired a team and am a proud owner of a successful and rapidly growing business! I often have to pinch myself because if you told me two years ago I'd be running a flying business like this - I would have laughed at you.
The resources I have at my disposal, and the people in the group that I know I can count on, is priceless. I couldn't imagine trying to run my business without Mastermind and the community. "

Carrie Jose, CJ Physical Therapy And Wellness, Portsmouth, NH
---

We're Now Making $20k Cash Per Week!

"Before Mastermind I was making less than $4000 per month – since joining we are now hitting $20,000 cash pay PER WEEK - and I've recently had a $7000 revenue day! None of that would have been possible without the help of Paul and the Mastermind group."
Dear Physical Therapist,
The answer to the question above will determine what happens in your business in the next 12 months – and the success and wealth that you experience for years to come.
Over the last few years the "PT Business" community has been split into two very clear groups:
On one side is the vast majority of PT business owners who are smart and intelligent but who have sentenced themselves to perpetual struggle because in a world where getting the right support and business advice has never been more important – they stubbornly refuse to seek out the type of support community they need.
They are shackled to an underperforming business that they think will one day just miraculously turn its self around. These business owners are struggling along with ineffective business skills and feel isolated and are indecisive.
They are dealing with constant push back from clients not wanting to pay fees or being continually dumped on by insurance companies who do pay – but pay a "pittance" and often 90 days late.
They are waiting every day for their "ducks to line up" and for the profit to start flowing in.
The "Secret Society" Getting Very Different Results
On the other side is a much smaller group.
The Elite few.
I call us the "Secret Society" of Physical Therapy Business Owners who are attracting new patients easily, charging 100% higher prices than most, recruiting the best possible people and looking at our businesses with pride as the profits come in.
It's not that the strategies we are using are hidden away from everyone else locked up safely in the Tower of London or in a place that no one else can find; it is simply that we have created an environment that makes it impossible to fail and easy to win.
"My Profits Increased By 30% During The Pandemic After Joining Paul's Mastermind Program"
Press Play to Watch
"A lack of support environment is the real "killer" for small business success"
Most small business owners will privately admit they lack the skills and support needed to be successful.
They have no one to turn to and ask a question when one comes up.
They have no one to give them the certainty or belief in that what they are working on will actually deliver the results they want. This leads to a perpetual state of uncertainty, insecurity and procrastination - and nothing gets done.
I can spot those business owners because they have a lot of bridges half built...
They have a lot of systems almost ready to go…
They have a lot of PDF's "nearly finished"…
They are always "just about" ready to hire their staff person…
They "know they need to track finances better" (…but often dare not look for fear of what they might find)…
They are "almost ready" to get some marketing started…
The Question Is, Where Is Your Support Environment?
If any of that is happening to you, I want you to have a think about why that is happening?
Ask yourself "who is supporting you as you try to do all of these things and get them right first time'?
Have a think about who you are currently surrounding yourself with and ask "what big ideas do they give you?" and do they have the skills, business experience and self knowledge that will make you as successful as you want and help you to get the right things done? (…answer honestly).
A lack of business skills and being part of the right support environment is likely to be all that stands in the way of you getting the type of profit and freedom in your business that you are craving and that's why I want to invite you to come and sample the support community that I have created – to see if you think it might be right for you.
I can promise you better business skills and incredible support – in abundance - and I want you to come and experience it for yourself wit zero risk or commitment.
"I love coming to the Mastermind Events. It's really progressed our business and our thinking on what we do and it's really shown in our profit margins and the money we bring into our clinic."
Press Play to Watch
Your Invitation To Join My Mastermind Community For Two Full Days – As My VIP Guest
I am sure you have heard about my Mastermind Community.
It is almost 100 business owners strong now and they are from all over the world.
The support is revered.
The thinking – very different.
The successes, unrivaled.
My Mastermind Program is known as the "4% Club" because just 4% of businesses ever make it to their 10th anniversary and everything that we do in the program is designed to support you getting into that "Club" (or staying there) and being wildly profitable while you are.
It is full of people who are different from anyone else you will interact with.
The business owners in my community are doing less – but making more. They have the right support, focus, confidence and skills to make better business decisions - and it is showing in their profit column at the end of each month.
This Is NOT About More Marketing Or Doing More 'PDF's"
This is nothing like any of my other programs.
If you have done Accelerator or BGS, then you are ready for this next step.
Those programs were about marketing and systems – this is about you – giving you better business skills, more clarity, more direction, more momentum, more support and more FOCUS on the important two or three things that will get your business moving and the profits flowing.
"Paul's Mastermind Program Has Given Me Leadership Coaching and Taught Me How to Leverage My Time So I Can Be With My Family and Live My Best Life."
Press Play to Watch
Come And Join Us For Two Days To See If It Is Right For You…
This is your personal invitation to apply to come and spend TWO FULL days across one weekend with us and see for yourself what it is like to be surrounded by an Elite group of business owners.
You are under no-obligation to commit to the program once the weekend is over – I simply want to make it easy for you to decide if this is the next step that you need to take.
These Guests Passes Are Limited To The First 10 People
I will make this offer to 300 or so business owners and sadly, many find every excuse possible to stay where they are – stuck.
It seems that the struggle is somewhat addictive.
At the next meeting I have made seating available for a maximum of just 10 VIP Guest Passes where you will be seated next to and surrounded by the same business owners that I have described above – the Elite.
You will get personal interaction with them, with me and my team and the aim of the weekend is to spend two days with you focusing on you and your business and show what life could be like if you decide to join us full time.
During the two days, I will be sharing the latest leading edge "what is working now" marketing strategies that will make the event worth attending on its own as well as covering things like recruitment, conversions, price strategy, finance and money.
You will get to hear from other business owners like you and find out how they are getting so much success and making so much profit.
"Paul's Mastermind Program Has Made It Impossible To Fail."
Press Play to Watch
Zero To $50,000 In Cash – In Less Than Two Years Since Joining The Program
At a recent event we heard the full story of how one of our Members has gone from Zero to $50,000 per month in his Cash-Pay business – in less than two years.
He has been in the Mastermind Program since the beginning.
These types of stories are not uncommon and you will only get to hear how they did it by being in the room with us.
You will get to immerse your self in a community of the worlds best business owners and decide for yourself what it would be like for you to be surround by a community like this, where $100,000 ideas are flowing, on a regular basis.
It Is By Application Only – Here's Who Should Apply
Now, although you have been identified as being suitable to take us up on this opportunity, it is only for you if you have a serious interest in growing your business.
If you are not planning on, wanting to or trying to grow your business – please do not apply.
This group is for serious business owners who are serious about growing their business profits. Here's who should apply:
You are disappointed with where your business is today and feel you should be much further along in income, profits, patients and growth by now…

You are frustrated with the number of hours you are working – for little results

You feel "lost" and "overwhelmed" with marketing, uncertain about where to start, who to hire, what to outsource and what results to realistically expect

Your lack of success with operations, hiring and management is holding you back from being able to grow

You have difficulty in sticking with a marketing plan long enough to see it work – you struggle with getting yourself to "implement it"

You worry about being financially stable enough to one day retire?

You worry that in its current state – you would never be able to sell your business and live off the profit like you have dreamed?

You are just flat-out TIRED, bored and restless with your business as it is today…

You know you need to track your numbers better – you just don't know where to start!
If you found yourself thinking "true" or "yes" to one or more of the above items, you will find attending the next meeting of the 4% Club enlightening as it will provide you with the hope that all of those those problems can be solved.
"Last Year I Saw 24 People in the Entire Month of January, But After Joining Paul's Mastermind Program, I Saw 26 People in Just One Week."
"How Do I Apply And When Is The Next Meeting?"
* The next 4% Club Meeting is on April 1st-2nd, in-person (very limited spaces in Las Vegas, NV.). *
It is just $750, or 2 payments of $395, to claim a "VIP Guest Pass" into this "Secret Society" for the two days and you are under no obligation to join the program at the end of the two days.
All that we ask is that you have some serious interest in joining the Program and feel as though you just need to see and feel for yourself what it is all about before committing to join us full time.
For full disclosure – the full fee to be part of the program will be discounted to $12,900 should you choose to join us at the end of the weekend.
Your attendance is by application only and there are strict qualifying criteria to attend. Please click the button below to submit your Application to be our guest at the next event:
We will be going through the replies to this invitation in the order in which they are received, so please let us know you are interested in joining us by filling out the application today.
When you have applied, here's what will happen next:
We will review your application with great care
If you are a good fit, we will get on the phone with you to talk about if this is right for you
If we both agree it is right for you, we will invite you to claim one of the Guest Pass seats
You will pay your $750 (or 2 payments of $395) seat registration and expenses fee
We'll see you at the next meeting of the 4% Club and you can decide for yourself if it is right for you
Two Final Points:
First, you would not still be reading this letter if you were totally happy with your business right now.
Going it alone is difficult. It can leave you feeling isolated and lonely and it is difficult to make good decisions about your business when you are constantly second guessing your self or questioning if what you are doing is even going to work for you.
It is much easier when you have better business and a support team.
Putting aside my usual "British Modesty", the skills that I will teach you, and my support team and my support community are the finest anywhere in the world with a proven track record of transforming the profits of the business owners who are smart enough to work with us.
Here's what some of them have to say about joining:

"Before joining Mastermind my profits had flat lined. Worse than that was I felt stuck and had been feeling that way for nearly five years. It got to the point I felt like giving up all together. In the first three months of joining Mastermind I experienced the three most profitable months I'd ever had in business – it was no coincidence."
---

"I joined Mastermind as a brand-new business owner. I did not want to try and do it all on my own. Within two weeks I was given the confidence and strategy to raise my rates by $50 per session - I was able to pay for mastermind in just two months!"
Second, everyone I described in that Elite group I mentioned earlier was once in the exact same situation as you are in.
They had isolated themselves and thinking that because they were busy "doing things" that success would come there way automatically.
I would like to remind you that there is a big difference between "doing" and "done".
And there is an even bigger difference between working – and working on the right thing that will get you the type of life and financial freedom that you want.
The people in my group are no smarter or intelligent than you - they were just smart enough to say "enough is enough" and do something about it. When presented with clear evidence that there is a better way of doing things that produces results light years ahead of everyone else, they were smart enough to come and find out what it's all about.
So, come and join us.
* The next 4% Club Meeting is on April 1st-2nd, in-person (very limited spaces in Las Vegas, NV.). *
It is a lot of fun and if you choose to join us, and your application is successful, it will reignite your belief in what is possible for your business and how it could make you very wealthy.
Apply here:
Sincerely,
Paul Gough
P.S. By coming to the meeting, for the first time in a long time, you will get a break from the "daily grind" of your business and you will have time to work on your business.
You will get to remind yourself of how good it felt back when your business first opened - reigniting that fire, passion and enthusiasm you had when you first started out.
That will be worth attending for on its own.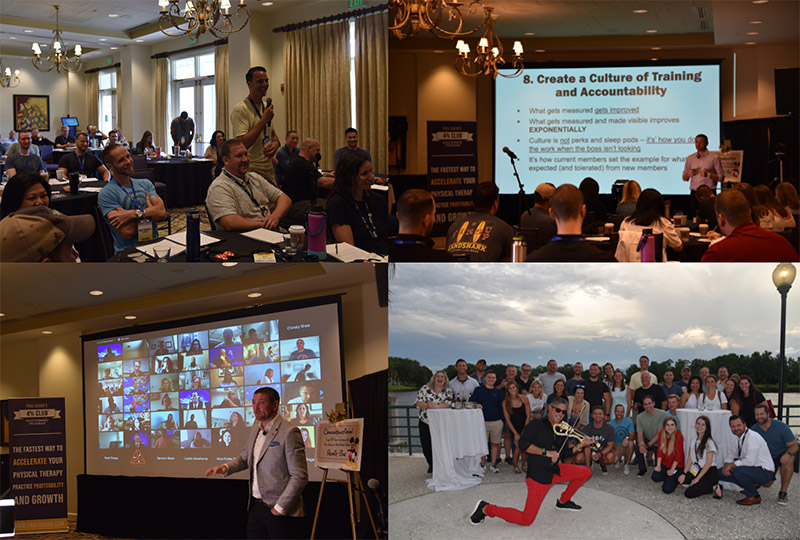 Here's what other people said about joining Mastermind:

I've Tried Other PT Coaching Groups - This One Is VERY Different

"I have been so fortunate to be a part of the 4% Club since the very beginning, it is the best business decision I have ever made. Before joining I had been involved in several other Physical Therapy groups - these groups were more focused on the "what" and "how" to do something. There was no higher level thinking, and no understanding about WHY I needed to do something - so I was always left feeling stuck, and watched others struggle to get a grasp on moving their business forward too... The 4% Club is completely different...

What I have noticed throughout the entire time I've worked with Paul, is that the people who apply everything being taught have huge success and it has quickly changed so many members businesses and mindsets for the better. I have gone from 3 STRUGGLING clinics on the verge of folding... To 2 thriving clinics that run without me even having to be there! In addition to that, I've even started a cash-based practice in a new state which I never thought was possible! I love being part of a great group of people who are on the same journey and want to succeed with you!"
---

In 2 Years We've Gone From Hustling For Clients To Consistently Generating $50k A Month In Revenue

"We were pretty much struggling with EVERY aspect in business before Mastermind - selling, price strategy, marketing, you name it - we were always busy trying to establish a solid foundation to grow our business on, with no clear direction to head in.

Mastermind has put us on the path to building the business of our dreams. In a 2 year period we've gone from hustling for clients making $2k a month… To being fully fledged business owners, treating less than 8 hours a week and consistently generating $50k a month in revenue. Mastermind has given us a huge amount of confidence in what the future holds.

It's hard to imagine where we would be today without Mastermind!"
---

My Clinic's Revenue Has Doubled Each Year

"Before I was spending less time with my kids, they were in school care until 6pm each night, and I was stressed out!! We had no processes or systems in place, we were just bobbing along and marketing was non-existent.

Since joining Mastermind my clinics revenue has doubled each year for the past three years. I've raised my rates, and right now this year is projected to be my most profitable ever (50% more than last)."
---

For The First Time Ever My Passion Has Been Re-ignited For My Business

"My business was struggling financially, with growing debt and revenue stagnation. I wasn't getting the personal satisfaction or the financial reward I expected after 12 years of being in business.

Shortly after joining Mastermind I had more courage to make tough decisions which have led to me having more control over my business and life. For the first time in a long time, Mastermind has re-ignited the flame for why I started in the first place, and one of the biggest changes is that my business is now profitable, rather than breaking even or losing money every month."
---

My Marriage AND My Business Have Improved Since I joined Mastermind!!

"The biggest struggle I had in my business before joining mastermind was that I was starting from scratch after having my second baby (and had no cash flow!) It's really scary when you're faced with 2 tough options: invest in yourself and your business OR close down and give up.

Since joining mastermind I have grown not one but TWO profitable companies! I have raised my evaluation rates to OVER $200 and now have a second business that is even more profitable than my PT clinic. On a personal note, I have to say that my marriage has even improved because of my communication skills."
---

Every Year Has Been More Profitable - And There's Now More Time With My Two Children

"I've been in the group for three years now and prior to joining Mastermind, my ability to market and attract new patients without a referral was basically non-existent. I had nothing in place for generating leads, and was relying upon Doctor referrals to keep my business going.

Mastermind has made my business far more predictable and profitable than I could imagine - which has helped me attain a better work-life-balance. I have 2 young children, more time to spend with them, our client volume has doubled and each year has been more profitable than the last.

It's really rewarding to feel like a part of so many people's success, while I strive to improve my own life, both business and personal."
---

I Was Scared Because Of The Cost – But It Has Paid Off Ten Fold!

"I was always scared to join because of the cost - but I knew I needed to do something, so I took the leap of faith, and it's paying off ten fold.

Ever since joining Mastermind I've been able to identify the areas in my business that I need to work on in order to grow. As a result we've raised our rates and I have a team that are 100% on board with our mission.

Being part of this group is so refreshing. You ask a question and get answers the same day. The advice and knowledge which this group share has helped transform my mind-set and my business. No buyer's remorse at all."
---

My Revenue Has Almost Doubled And I Have A Lot More Time To Spend With My Family

"I used to be overwhelmed with fear that I was doing something wrong. That if I did or didn't do certain things at theright time I could be setting myself up for failure. My task list was getting longer and I didn't have anyone to ask for help. Since joining my revenue has almost doubled! And while the increase in revenue is one of the greatest wins since being a part of Mastermind, it has also helped me grow by being able to focus on the areas I need to excel growth and profits, and has given me back a lot more time to spend with my family. I struggle to think where I would be, and what my focus would be on, if I hadn't joined this program."
---

Mastermind Has Helped Me Move Out-of-Network AND Drop My Lowest Paying Insurance Company

"Before joining Mastermind I was frustrated dealing with low paying insurance companies, was extremely stressed out, and struggling financially, which was having an impact on my business AND family life.

Mastermind has changed my life significantly and put a stop to my headaches. I've been able to move out-of-network, drop my lowest paying insurance company, and gone from charging $95 a visit to $240! – I'm no longer worrying at the end of each month if I'm going to make payroll and pay rent."
---

We Have Grown From A Team Of Two To Seven In Just 2.5 Years

"I joined Paul Gough's Mastermind right after taking Business Growth School, and all I can tell you is that it's priceless! In the space of just 2.5 years my wife and I have grown from a team of two (us), to seven, which wouldn't have been possible without the help and support of this group.

Before signing up my wife and I lacked direction and the ability to scale our business. We were doing a lot of work for minimal profit and couldn't see how we could make our business grow. Not only that, we truly believed that this was going to be the case for the rest of our lives!

I can now finally say that I work "on" my business instead of being stuck "in" it."
---
I Was Hesitant To Join At First - But It Was Exactly What I Needed!

"I was hesitant to join at the start, I didn't know if Mastermind was right for me seeing I was in the early stages of starting my business - but I knew after the value I got from Accelerator and Business Growth School, that Mastermind was just what I needed to keep the momentum going and not fall off track.

Just by seeing others in the Mastermind group take action in areas I was stalling in, it has given me the confidence to raise my rates by 40%, and hire my first member of staff to help me convert all of the new inquiries I'm getting!

I know that whatever problem I think I'm facing - there are numerous business owners who can help me through it."
---

I Don't Have To Worry About Where My Next Patient Will Come From

"Acquiring New Patients was my biggest concern when I opened my business in 2016. Since joining Paul's Mastermind I now have more than enough clients on schedule, new patients inquiring daily, and bigger, exciting things, like hiring and follow-up systems to focus on instead.

I love all of the business insights from Paul and his Mastermind community - and his ability to help us overcome any roadblock. Nothing is a problem when you work closely with Paul."
---

My Price Has Gone From $150 Per Session To $199!

"Before Mastermind my Patient Visit Average was only 2-3 visits. I thought that getting more calls equaled getting more patients – but when they only see you for 2 visits, it's hard to build a profitable business.

Since joining – visits are up by 17 PER PATIENT! My prices have gone from $150 a session to $199, which will be going up again to $225 – None of this would have been possible without the accountability I get from the weekly coaching calls and support from the group."
---

In 1 Year I've Gone From NO Profit To Consistently Generating 20% Profit Each Month

"Before I met Paul I was making NO profit. I was stuck. Had no idea what to do in order for my business to survive, and I even considered throwing the towel in altogether... But then after hearing Paul speak and taking his Accelerator program - I made the decision to join... 1 year on into Mastermind I've gone from making NO profit to generating 20% profit consistently each month! I no longer experience a "slow" month. We're at 97% capacity (which wasn't the case this time last year!), and since taking on Paul's advice, we've hit every target. One of the things I love the most about Mastermind is the weekly coaching calls. I listen to the calls AT LEAST twice because each call has something GOLD to take away and use immediately. Even more importantly the information we're given saves me from making a bad decision. Implement what Paul teaches and you'll start being the owner of the thriving business you always dreamed of."
---

I Finally Got Out Of Working For Someone Else, To Running A Profitable Business Of My Own

"Prior to joining Mastermind my biggest worry was having the confidence to say goodbye to being employed by someone full time - to being completely self employed. Since I've been a part of this incredible group I gained the confidence to transition to full time business owner, have a team of people working for me, I've been able to increase my prices, and most importantly - I have more time to enjoy with my family, being able to drop my daughter off at school each day means the world to both of us. The support from the community is also amazing. So many business owners sharing ideas, struggles, plans, feedback… the list could go on. Mastermind is by far the best decision I've ever made."
---

If You Want Higher Rates, Higher Profits And Business Growth – You Cannot Make That Happen Without Mastermind!

"The biggest struggle I was facing before joining Mastermind was that I didn't know how to market my business and get patients without Doctor referrals.

Since joining, I have been been able to transition from the insurance based practice I had built over 10 years, into a new cash practice! Mastermind has also given me more confidence as a business owner, with the help of the weekly coaching calls to continue my learning and growth - you can always get more clarity on your next steps.

If you want to be successful, you cannot do it alone - being part of this group has helped take me to where I want to be."
---

When I LEFT This Group – My Business Became A Mess... I'm Now Back And I Won't Be Leaving Again

"I left this group once – and basically, my chance of success in business ended with it. I'm now back in the group and I will NEVER leave. It took me walking away to realize the TRUE value of the group. You never know how good you have it until it is gone and leaving was the worst decision I ever made. Not again."
---

I Was Burnt Out And Looking To Change Direction Before Joining This Group

"Before I started on this journey with Paul and the group I was a guy burnt out as a therapist and looking to change professions all together. Not in my wildest dreams did I consider owning my own practice but thanks to everything I've learned in the group I'm now DOING JUST THAT and loving every second of it!"
---

Before Joining, I Was Kind Of On My Own Island, Struggling With The Ups And Downs... Since Joining, I've Had The Best Year EVER!

"I was in business for 12 years with moderate success and always put off joining a mastermind group like this. Since joining, things are totally different now. Before, I was kind of on my own island, struggling with the ups and down. Now I am part of a nation of people who think like me, are solving the same problems as me and who are willing to share and help all be successful. Now my business is fun, I look forward to Monday and everything runs more smoothly. My employees are happy and working well together. I had the best year ever last year and we're on course for an even better one this year. The value of belonging to this group is hard to overstate. Joining this group was a great decision – I just wish I'd done it sooner!"
---

I Would Likely Have Given Up By Now If It Was Not For This Group

"I cannot believe how important this group has been for me. I was in business for 3 years prior to joining and I would likely have given up by now if it was not for this group. I have leaned so much and now have my own personal support group. Everyone is willing to share and provide assistance for every aspect of business. It is amazing how many friendships have been built and how much I now look forward to future in business"
---

I Continued To Be Scared For A Month Or Two AFTER I Joined Thinking "Will I Be Able To Keep Up?" But Now I'm So Glad I did... There's No Looking Back now!

"I took Accelerator – and waited quite a while (several months) to join the 4% Club. I wish I had joined sooner now that I know its true value. What an amazing impact Paul and this group have already made to my growth and that of my business. In just 3 months since joining I have made progress and finally working "ON THE BUSINESS". My profit continues to increase month on month, I'm working towards hiring my first admin and the support and resources in the group have made that so much easier for me. I have never ever felt AS confident as I do now and I'm ready to excel and build a team of my own. Truth be told, I continued to be scared for a month or two AFTER I joined thinking, "will I be able to keep up?" But now I'm so glad I did. There's no looking back for me just like everyone else in the group"
---

I Didn't Think I Could Afford To Join – Now I Know You Can't Afford Not To (Join!)

"I was one of those "on the fence" people and decided not to join the 4% Club after I had done Accelerator (6 week program). What a mistake! I thought I could apply things I had learned and then join later if I needed to. I didn't think I could afford to at join at the time. When really now I know I can't afford not to. The power of this group is incredible. It will help keep you motivated and focused. Hearing and seeing what others are doing really drives you on. You won't regret it if you do join; but like me, you will regret if you DO NOT join."
---

Having A Group Of Peers Gives You The Confidence To Do What It Takes To Grow Your Business

"I am so glad I took the leap of faith to make the investment. As a business owner just getting started in private practice, I had zero confidence and no idea how to attract clients.

But since joining, mastermind has given me the confidence to set myself up for success from the get-go, rather than waste time and money on decisions that don't work.

Everyone in the community has either been through the same situation, or knows what it's like - it's given me the certainty that I will get the answers to whatever I need to be successful."
---
I've Gone From 'Clinician' Working In My Business, To 'Business Owner' Working ON My Business

"I used to be stuck in the daily grind of working IN my business, now I find myself working ON my business.

Mastermind has helped me gain a top level understanding about how people make decisions, which in turn, has provided my business with a consistent stream of new clients and helped me reach revenue goals.

Being part of Mastermind means you can associate with people who are facing similar challenges and can keep moving forward without the fear of it going wrong."
---

I Now Think Critically About My Business And No Longer Worry About Where My Next Patient Will Come From

"Like many other clinic owners, before joining Mastermind my biggest worry was "how do I get more patients?!" So I thought I had a Marketing problem.

Since joining one of the biggest lessons I've learned is that my struggle isn't getting more patients, it was figuring out what I needed to do to maximize what I've already got to increase revenue.

I no longer find myself getting caught up in trying to find more leads - instead I'm now confident about converting the ones I have, turning them into a lifetime customer, and generating more profit with less patients!"
---

My Business Continues To Grow Without Me Having To Be There, And I Finally Have Time To Spend With My Kids!

"Before joining Mastermind I was doing everything "old school" - copying others and running around after surgeons all day. I was frustrated at not getting referrals and waiting around all day for the phone to ring - I knew there had to be a better way to run a business, I just needed to know how to do it right.

When I attended Paul's 3-day Marketing course my eyes were opened up! Joining Mastermind has given me CONCRETE strategies that I can easily implement. I've since been able to hire staff, which has freed up my time so I can spend it with my kids while still making money.

Mastermind gives me the support I need to take my business wherever I want it to be. It has made my life richer in many ways."
---

I Can Now Call Myself An Author Of A Book, And Run A 'Real Business' That Thrives

"My biggest fear was not being successful as a business owner, and getting 'stuck' like every other solo practice owner I saw in the area.

Mastermind has given me the ability to think differently about how to run a business and since joining I've found myself raising my rates, hiring staff, publishing a book and now I'm thinking about buying a BIGGER premises.

Paul always is pushing the envelope and always has new ideas ways to attack the same problems. When the leader of the group is always pushing forward, it sets the tone for everyone else."
---

Just What I Needed To Keep Focused

"I have a tendency to start projects and get distracted by shiny objects - and when it comes to building a business, that's not what you need!

When I joined mastermind that's when everything came together and I finally understood exactly what I need to do to stay focused and take me where I need to be. Since joining I've raised my prices, got my team on board, and am moving away from relying upon insurance companies, which is far more than I've ever been able to get done in the past."
---

Mastermind Removes The Guesswork So I Can Get Stuff Done

"When it came to implementing systems and actually making them work for my business - I felt like I was in the dark… I knew what I needed to get done, but when it came to actually doing it, there were obstacles I wasn't sure how to overcome.

Since joining Mastermind I am a million times more confident with the direction my business is headed in. Each calls gives me more clarity and helps me move forward. I'm even converting leads steadily since taking the leap.

The community and culture in Mastermind is what keeps me in the program. Being a part of this group makes all the difference."
---

Now I Have No Problem Charging Higher Prices

"Before Mastermind I had a huge fear of rejection. I doubted myself and always felt bad about charging higher prices - especially to friends, family and those desperately in need, so I'd end up giving hefty discounts or offering my services absolutely free.

Since joining, this program has given my confidence a boost beyond measures! I now have no fear about charging higher prices, and because of the communication skills Paul teaches - I was able to raise my rates without any pushback."
---

I've Been Able To Generate Higher Profits With Multiple Revenue Streams

"Before joining Mastermind I felt stuck. I started as a Private Pracitce owner seeking freedom and autonomy. I was always busy treating and documenting day and night. I found myself trapped in my business working harder and harder. I was busy working and trying to stay ahead, feeling tired and increasingly frustrated. This was surely not the reason why I joined the PT profession in the first place?? I was trying to shift my business model to out of network and cash, however, I was lacking the time and confidence to make it happen.

Mastermind helped me to make that transition and my business has grown considerably. I now have multiple revenue streams in my business, no hassle patients, and our conversion rate from inquiry to paying patient has dramatically increased.

Seeing how other business owners overcome their problems and achieve their success is a HUGE motivator."
---

There's A Plethora Of Physical Therapy Business Owners Always Happy To Help

"The biggest struggle I had prior to joining Mastermind was that I wasn't earning enough money to support my business and I felt guilty over raising my rates.

Joining Mastermind changed my every outlook. With the help of Accelerator and Mastermind I have completely revamped my business, and have started charging what I deserve. I have never been part of a group so willing to help and eager to share unselfishly. I have so many decisions to make it can be overwhelming - the group gives me the support I need so I know I am never alone! The benefits are never-ending."
---

In Just One Month, We Raised Our Prices To $450 Per Evaluation

"Before joining Mastermind we found ourselves scrambling at the end of each month struggling with finances and having no marketing plan.

Within one month of joining we raised our prices to $450 per evaluation, and have been able to recapitalize on our past patients (making more with what we have vs. always thinking we need more new clients).

The support in the community is like no other. Surrounding yourself with like-minded business owners helps you excel and achieve much more than you could alone. We are eager to see what we will accomplish next!"