Paul Gough
"The future of your physical therapy clinic depends upon your ability to attract a regular supply of new patients to your practice without getting a single referral from a doctor – if you understand that this is the single most important business activity you will ever do – and you are willing to spend just two hours of your time with me mastering how to do it – I will give you everything you need to dramatically improve your clinics new patient numbers and profits"
Dear Physical Therapist,
Do you know what it would take to be able to grow your physical therapy clinic without receiving a single referral from a doctor?
Most physical therapists won't even consider the question.
They think it's too far fetched because they've been indoctrinated in the "old school" ways of thinking that to grow a physical therapy clinic – you need to get more referrals from doctors.
That USED to be true.
But the good news is, they are now dead WRONG!
Here's the simpler way to GROW your physical therapy clinic profits:
If you increase the number of people contacting your clinic by just 50%...
…and if you increase the number of conversions to paying patient by just 50%...
…you don't just get a 50% increase in sales...
…you actually get a staggering 125% increase in business!
This leads us to the almost magical formula for physical therapy clinic marketing success that almost nobody in the industry understands:
Inquiries x Conversion = Higher Profits
Once you really, really grasp this core principle – which has governed my own physical therapy clinic success for the last 10 years – you are virtually guaranteed success.
It doesn't matter what type of clinic you run – "in-network", "hybrid" or "cash only" – whether your ideal patient is aged 25 or 65, has chronic back pain or is a "weekend warrior", if you are going to grow your physical therapy practice, you need to know how to attract and convert new patients at your practice – and to do that, you need just two things.
Inquiries – more people getting in touch with your clinic showing an interest in the solutions and skills you've got

Conversions – a way of converting those inquiries to paying patients, as quickly as possible
That's why:
Inquiries x Conversion = Higher Profits
The Blunt Truth –
Not For The Faint Hearted
There's no easy way of putting this so let me just get to the point…
Most physical therapy businesses are fairly bad at getting new patients at their practice coming to them via Direct Access. They are using just one or two methods – if that – when really you should ideally be using at least 7.
But that's not the biggest problem.
The BIG problem is that many physical therapy owners have relied upon referrals from doctors for so long that they are TERRIBLE at converting inquiries into HIGH value, HIGH profit, and FULL paying patients.
If that's similar to the position you're in, I understand your frustration, because I also understand that it's not your fault.
It's Time For You To Take Control Of Your Physical Therapy Practice And Your Profits
If you're struggling with Attracting New Patients to your practice, it's not because there's anything wrong with your skills or your business. Some of the smartest physical therapists I know find marketing for new patients their biggest challenge.
I am also going to hazard a guess that you've tried to solve this problem in the past. You've probably tried some marketing companies who've promised you the earth. If they haven't delivered – it's not your fault. It's theirs.
The problem with the physical therapy industry – with a few notable exceptions – is that we are not trained to be "Marketers" and no one at PT School taught us the techniques to convert prospects to paying patients.
That's because back then, the lifeblood of most physical therapy clinics was referrals from doctors - when no conversion skills were really needed.
Unfortunately, that referral source is now drying up at an alarming rate and virtually every physical therapist I know is experiencing the effect of the big hospital systems buying up small doctor offices – or local doctors setting up their own PT clinics – meaning referral sources that used to be reliable and profitable, are not so any more.
And if you're a cash based owner…you're likely to be experiencing more competition for NP's than ever before as more PT's come out School with aspirations to start their own practices, and wanting to avoid the hassles associated of dealing with insurance companies.
There is only one solution for you if you are going to sort this out, and that's quite simply to master New Patient Attraction and Conversion and make your physical therapy clinic a success regardless of whether or not you can get referrals from doctors, or who sets up next door to you.
And, For Your Own Sake, You Must Act Now…
Whether or not you choose to continue to market to doctors for your referrals, YOU must fully understand what New Patient Attraction methods are working in the industry right now, and how to MASTER the Inquiry X Conversion formula.
You need to know how to attract inquiries from high net-worth patients to your practice.
You need to know how to convert those inquiries to paying patients.
You need to know what to offer those prospects using the "Education Based Marketing" style of marketing (easily the best way for you to go if you've got little or no marketing skills or a small budget).
You need to know at LEAST 7 different methods for attracting new patients to your practice
Please don't leave this any longer.
Even if you're currently surviving on referrals from doctors or you're a cash based practice just setting up or wanting to grow – to prosper, you must know the essential principles of New Patient Attraction so that you can grow your practice profits predictably, and reliably.
The future of your business relies upon it. With that said…
Let Me Show You How To Get At Least 20 New Patients Coming To Your Practice, In The Next 30 Days
This is so important for the future of your physical therapy business that I am releasing 7 of my best (and most simple) New Patient Attraction methods on one immediate access video seminar program, so that you can sort this out, once and for all.
If you are willing to spend just two hours out of one day mastering the single most important part of your business – New Patient Attraction - I will make sure that you have everything you need to end your lack of doctor referrals frustration - and your Marketing confusion - for good, and turn your business into the New Patient generating machine you need it to be.
Introducing:
Paul Gough's
"30 DAYS TO NEW PATIENT PROFITS"
7 Ways To Get 20 New Patients, In Just 30 Days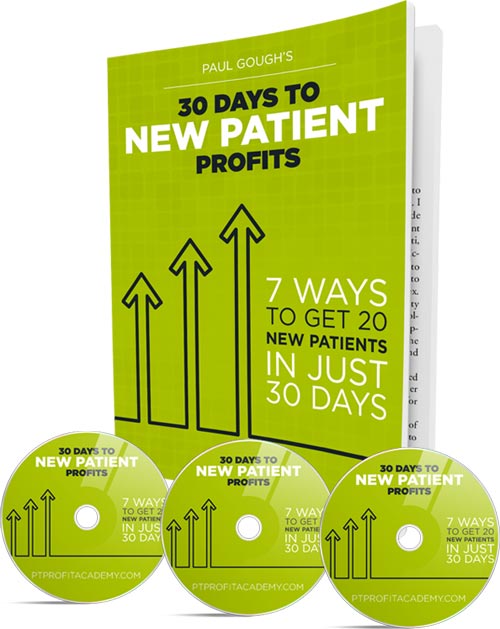 On This Exclusive, Instant Access Online Video Seminar, You Will Discover...
The single fastest strategy to get New Patients coming to you from your current patients – this will happen in the next seven days and will give you an immediate cash boost

How to get large numbers of new patients into your PT business FAST - at low or zero cost

Why you DON'T need a huge Marketing budget to grow your clinic – even if you're in a town dominate by big hospital systems

The 7 New Patient Attraction strategies that will take your PT business to a whole new level of profits and success

The specific words to use that can double or triple your referral rate

How to get automated Referrals online, for no effort or cost

An ingenious strategy to get New Patients - just by offering something you're currently taking for granted…

The NP attraction process you MUST be using before you spend another dollar on Marketing or Advertising

The big marketing mistake that causes 99% of small clinic advertising to FAIL

The vital strategies that anyone starting or growing a physical therapy business MUST master immediately
As Well As...
The Power of "Education Based Marketing" – the NEW way to attract patients to a physical therapy Clinic

The email marketing strategy that can make you a fortune without even asking for it…

How to use Facebook and Social Media to attract New Patients – this goes way beyond getting "likes" or "boosting" posts

How to get NP's from ANYONE sitting in your waiting room…

The Power of Direct Mail – reach highly targeted prospects living right by your clinic

Strategies for Newsletter Marketing – this little used strategy is the difference between a newsletter that makes a profit, and one that doesn't!

How to get a never ending flow of NP's if you're at Community Events or giving educational based talks…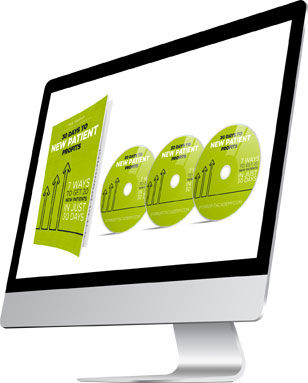 Instant Access Online Video Program
$447 Just $97.
And Of Course, Not forgetting
All Of This...
How to create the right offer to ATTRACT patients that'll want to spend money with you (..and before they visit their doctor)

The words to use in your marketing pieces that increase inquiries – and the words to avoid that will KILL your adverts chances of success

How one small change to a headline can increase your New Patient intake by at least 37%

Paul Gough's Advanced Conversion tactics – including the exact script that I'm using at my own clinics to effortlessly convert more inquiries to high paying patients happy to pay $160+ per visit, without ANY resistance

...and much, much more!
Who Is It For?
You own your own Physical Therapy business or are in charge of finding your own patients

More than 50% of your current NP's come from referrals from local doctors

You have a responsibility for sales and marketing

You realize that you need to learn more about marketing if your PT business is to ever reach its full potential

You're frustrated at the lack of NP's you have coming to see you

You are already highly successful but you want to take things to the next level

You want to make more money

You would like to free up your time - more reward for less effort

Your business is struggling and you want a fast turn around

You want to create the success you deserve by mastering the most important business skill there is

You're a "cash based" practice and your livelihood depends upon your ability to acquire NP's via Direct to consumer Marketing - simply because doctors won't even consider referring patients to you because you're out of network

You're an "in-network" provider – but the referral sources you once had are drying up and you need a regular, new supply of patients that you're in control of

You need better conversion strategies to maximize profits for the inquiries/referrals you're already getting…
What's Included:
To be EXTREMELY successful, you need more than just the theory of how to do this - so I've included the walk-through videos, scripts and lead attraction templates to practically guarantee you get your clinics new patient attraction sorted out within the next 30 days. Including:
Two "in depth" core strategy training videos - I break down how to create the irresistible offer that will act as a "magnet" for new patients – and of course, 7 ways to use that " lead magnet" to attract patients to your clinic

Influence and conversion scripts - to ensure that the conversion from lead to full paying patient is easy and that you make the most money possible from every inquiry you're going to get from now on

My highest converting new patient attraction magnets – you can have TWO of the exact lead attraction magnets I use at my own clinic to copy and paste from. Start using this today.
How Much Should All This Cost?
The full price of this special multi-video seminar program is $447.
But if you order now, you can get instant access for just $97 or two easy payments of $55. That's instant access to this exclusive online video seminar program revealing the 7 most effective ways to attract new patients to your practice – for just two payments of $55.
Don't miss out. Click the button below:
$447 Just $97 or x2 easy payments of $55
Plus, Take Action Now And Get This
Exclusive Bonus Given To You Free:
Online Video Seminar: Web Wealth 5.0 – The Five Money Machines Of The New Internet World (Value $297)
On this special "Marketing Master Class" bonus video seminar, you'll discover:
The big new online opportunity just waiting for physical therapist's to grasp!

How to triple visitors to your website

The social media profit secrets that most PT's are overlooking

What's wrong with your website – and how to fix it

The three big mistakes your website designer is almost certainly making with your website

Essential conversion strategies – how to convert visitors to your site to paying patients

Omni-presence – how to appear everywhere your potential new patients look!

How to get new patients online, 24/7

Combining Facebook and Google – the unknown strategy of the worlds most successful PT websites

And so much more included!
This video seminar will be instantly made available for you to watch from the comfort of your own home or office when you order NOW. This is a recording from a Marketing Program that some of the top physical therapists' in the US paid $2500 to be a part of – and I'm giving it to you for free as part of your investment in "30 Days To New Patient Profits".
It includes everything you need to start profiting with NP's from your WEBSITE and ONLINE. Do not miss out on this extraordinary program that is unavailable anywhere else.
$447 Just $97 or x2 easy payments of $55
I Guarantee These New Patient Attraction Strategies Will Work For You... Or You Don't Have To Pay...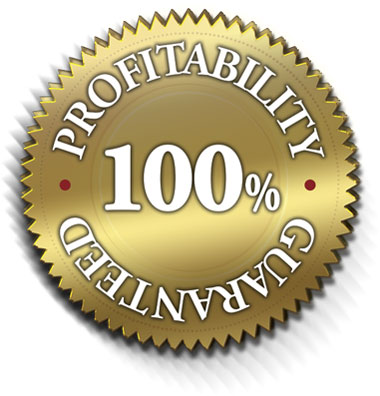 Here's how it works. Take action and purchase "30 Days To New Patient Profits" and put the strategies to use in your own physical therapy practice.
If you don't get just one extra patient you wouldn't otherwise have gotten thanks to these strategies, just send me an email using paul@paulgough.com and I'll gladly refund your money.
Best part: you have 60 days to test these strategies. Just one is bound to give you a profit windfall that could resolve the worries you're having in your physical therapy practice.
More: I'm making it extremely easy for you to get your investment back by just charging $447 $97 for "30 Days To New Patient Profits".
Remember, just "1" patient is all you need to get your investment back. In fact, with just 1 or 2 of these tactics, you could get 100x your investment back and more!
So, in reality, this course doesn't "cost" anything. It's an investment in your future wealth and prosperity.
Remember: You Save $350 if you take action NOW!
What Other Physical Therapists Are Saying About Paul Gough And His New Patient Attraction Strategies
"The marketing tips, techniques and mindset offered by Paul are absolute gold. What's most impressive about Paul is that his business is able to charge $160+ per visit, in a country where everyone can get physical therapy completely free – since working with him, I now know how he's pulled it off!"
– Dr Jarod Carter - Physical Therapy Owner, Austin (TX)
Founder of "The Cash PT" Podcast
---
"In just a few months of using Paul's material, we're already getting to the point we don't have to do ANY physician marketing – thankfully, I am over that! Knowing what I know now, I would rather spend the time marketing directly to, and on the phone with potential patients, and NOT rude MA's, office coordinators, and cocky physicians. Paul's strategies have completely transformed my business… this is the most excited I've been about PT in 5 years since opening!"
– Scott Gilbert, Canyon PT, Phoenix (AZ)
---
"Paul showed me how to put a direct to consumer marketing system in place at my clinic that has helped me move away from relying on doctors for referrals. When I started using Paul's strategies I was only seeing 20 visits per week – 6 months later I'm now at 55 and moving quickly towards my goal of 100 visits per week. Thank you Paul"
– Oliver Patalinghug, Restore PT LLC, Rochester Hills (MI)
---
"Since working with Paul I have seen a constantly steady rise in prospects and new patients. Last month I ran an ad in the Sunday paper and had 40 prospects call/email and ended up turning 8 into paying patients in the first week - an immediate ROI of 332%. Using the skills I have learned from Paul I also e-mail my past patients and have brought in 20 past patients who otherwise would have remained lost. The ROI on my investment of working with him, easily triple digit, month on month!"
– Andrew Vertson, Intecore PT, Orange County, (CA)
$447 Just $97 or x2 easy payments of $55
A Final Thought –
How Urgent Is This For You?
I am sure you know that your clinic is losing out on higher profits by not sorting out your New Patient Attraction Strategies – or you wouldn't still be reading.
Are you really willing to let more days, weeks and months go by losing money every single day on this?
Whether you're an "in-network" provider, a "hybrid" clinic or a "cash based" solo owner…the future of your physical therapy business (and your financial well being) depends upon your ability to acquire New Patients without receiving referrals from doctors.
This is pressing and urgent.
Please make the commitment to yourself and your future prosperity by sorting out this issue starting today.
Best wishes,
Paul Gough
P.S Here's what one other PT Owner said about me AND my Marketing strategies:
"Paul is refreshingly honest, straight-forward and easy to talk to and I love his no-nonsense approach to direct marketing. You'll find with Paul that he is up front about what to expect as far as the influx of new patients you can expect to get from his strategies - and more importantly, he is just as honest enough to tell you what NOT to expect as well. I've recommend him to other physical therapy owners who have been equally impressed with their results from his strategies"
– Dean VolK, Volk PT, Concord, (NC)
Order "30 Days To New Patient Profits"
Now For
$447

Just $97

$447 Just $97 or x2 easy payments of $55